The Unofficial Guide to Casino Gambling
by Basil Nestor

Basil Nestor incorporates decades of gambling knowledge to give the reader insight into probability, common gambling mistakes, and winning strategies in his popular book, The Unofficial Guide to Casino Gambling. Covering all the bases of casino gambling including machine games (slots and video poker), table games (blackjack, roulette, craps, baccarat, poker), and waiting games (keno and sports betting) the book also has sections on how to get casino comps, gambling systems, a history of gambling in the US, and much more.
Lowest Roulette House Edge on the Net!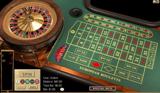 American casinos are well-known for having a high house edge when it comes to roulette. This is because most roulette tables stateside have zero and double zero. When you play European roulette with its one zero, the house edge is cut in half. If you add the special 'en prison' rule that you can find at Intercasino, the edge is cut again, down to 1.35% on even money bets and 2.63% on all other bets. This is by far the best deal you can find on the Net for roulette.
Q What is a house edge? How does it affect me?

A The "house edge" is an exact measurement of a casino's advantage in a game. It is usually expressed as a percent. This number is important

Basil Nestor is the author of the new Playboy Complete Guide to Casino Gambling. This wonderful book teaches players how to avoid sucker bets and win more when playing gambling games. He is also the author of The Smarter Bet Guide series for video poker, slots, craps, and many other books about gambling. Basil's website is www.smarterbet.com
because it allows us to compare games and choose contests that are easier to beat.
Here's how it works:
A casino earns money by paying winners at "house odds." This an amount that is slightly less than the true odds of winning the contest. Let's say we're flipping a coin and the bet is one dollar. The true odds are 1 to 1. Both sides are evenly matched.
However, the house odds might be only 0.95 to 1. In other words, a loss to the casino costs $1, but the casino will pay only 95 cents when a player wins. That's the house edge. Typically, a casino shifts the odds of winning rather than payoff, so the payoff is 1:1 in games like blackjack and roulette, but the true odds favor the casino. For example, in American roulette, the true odds of winning on red is 0.9:1.
Sometimes professional gamblers can use strategy to change the true odds and shift the edge away from the casino, but it most situations the casino has an advantage.
If a game has a 5% house edge, then gamblers (as a group) will usually lose $5 for every $100 wagered over time. Of course there are fluctuations; some people win and others lose in the short run, but casinos always win in the long run (if the contest has a house edge). The house edge on slots is typically 5% and up. The house edge on craps is anywhere from 0% to 17% (depending on the particular bet). Baccarat is about 1%. Blackjack is 1% to 3%. Caribbean Stud Poker is about 5%. These numbers vary depending on the strategy a player uses. A lower edge is obviously better for a player, but the best situation is no house edge, or an edge against the house. You'd be surprised how often that can happen. And you'd be shocked to learn how many people simply throw away their edge.
Video poker is an excellent example. Players can get an edge by using optimal strategy, but most gamblers don't bother to play correctly...so they lose!
Go figure.
By the way, the house edge on slots and video poker is often quoted in reverse. In other words, a 5% edge is called a 95% payback. In this case, a higher number is better.
Want to learn more about the house edge? The Unofficial Guide to Casino Gambling lists the true odds for dozens of your favorite games.
Enjoy the game!
Basil Nestor