Advantage Play For The Casino Executive
by Bill Zender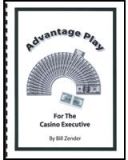 When you hear about famous card counting teams, such as the MIT group, you're getting only part of the story. The weapons in the arsenals of these players are truly amazing-and they're described in detail here. In addition to blackjack strategies, Zender writes about biased roulette wheels, playing with hole-card information in Three Card Poker, and the latest debate on whether dice can be controlled with "rhythm rolling" (he's dubious). For video poker players, there's a big section on combining return percentages, cashback, and promotions to gain an edge (Bob Dancer style).

Smart Money: How The World's Best Sports Bettors Beat the Bookies Out of Millions
by Michael Konik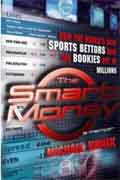 This book takes you into the world of sports betting, where real men bet million dollars on the outcome of a football game. The author got involved with this hidden world of sports betting when he interviewed of Rick "Big Daddy" Matthews for a magazine article. That interview turned into a venture that made him a rich man. It's the kind of life men dream of but don't really think exists. It does. The cast of characters is real; their names have been changed.