The Unofficial Guide to Casino Gambling
by Basil Nestor

Basil Nestor incorporates decades of gambling knowledge to give the reader insight into probability, common gambling mistakes, and winning strategies in his popular book, The Unofficial Guide to Casino Gambling. Covering all the bases of casino gambling including machine games (slots and video poker), table games (blackjack, roulette, craps, baccarat, poker), and waiting games (keno and sports betting) the book also has sections on how to get casino comps, gambling systems, a history of gambling in the US, and much more.

Every Light Was On - Bill Harrah and His Clubs Remembered
by UNR Oral History Program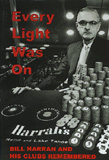 If ever a man didn't appear capable of succeeding in business -- especially the rough-and-tumble casino business of the 1930s -- it was Bill Harrah. But succeed he did, starting with a small bingo parlor and building one of the most profitable casinos in the world by the 1960s. A college drop out, a womanizer, an alcoholic, Harrah's passion was his automobile collection but somehow, he managed to find the right combination within himself and from his employees, to overcome all the obstacles of his life. In this book, Dwayne Kling interviewed more than 40 people who were closely associated with the casino king -- employees and wives (he was married seven times) -- all of whom help paint a complete picture of the man, the era, and the casino's history.