More Book Reviews
Best Selling Poker Books of 2014
How did the new books compare to the old classics? Well, we will let the data speak for itself. Take a look at the list of the best selling poker books of 2014.
Deal Me In and Eat Professional Poker Players Alive Reviewed
There isn't a clear path by which people become professional poker players. There aren't any good courses at the local vo-tech for a person to study. The road to becoming a poker pro is inevitably difficult, circuitous, and filled with setbacks. Deal Me In is a book describing the course by which twenty top poker players became professionals.
Poker Winners Are Different
There is a big difference between what's typical human behavior and what is called for to play poker at a high level. There aren't a lot of people for whom maximizing their expectation in poker games comes naturally. Poker Winners Are Different by Alan Schoonmaker examines this conundrum.

Identity Theft, Inc.
by Richard Marcus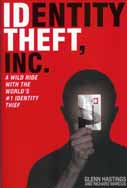 Identity theft is the crime of this century. Just ask Frank Abagnale of Catch Me If You Can fame. He states so in the Q&A of the latest edition of that book. So here, then, is the true-crime book of this century. This is the first book on the subject from the inside, told by someone who's assumed hundreds of identities and become rich off it. Not only does the author reveal how ID theft is done, he tells loads of wildly unbelievable but true stories about his impersonations as they led to riches. Some of them are as funny and outrageous as they are amazing.
Sometimes when it rains, it pours and when you're in the desert, you appreciate the downpour. At Gambler's Book Shop, we get to appreciate it in two ways – first for the welcomed

Howard Schwartz, the "librarian for gamblers," is the marketing director for Gambler's Book Club in Las Vegas, a position he has held since 1979. Author of hundreds of articles on gambling, his weekly book reviews appear in numerous publications throughout the gaming industry. Howard's website is www.gamblersbook.com
moisture and second for the gambling-related titles that show up at an unprecedented rate. And right now, we're in a mini monsoon! It seems everybody's got an idea for a book.
Let's look at the newest efforts, including one controversial title by an author who in past years has specialized in cheating as his favorite topic.
IDENTITY THEFT, INC. -- A Wild Ride with the World's #1 Identity Thief by Glenn Hastings and Richard Marcus (323 pages, paperbound, $15.95). Hastings you probably won't know. Marcus, however, is notorious for his
American Roulette
(he cheated for decades in casinos) and
Dirty Poker
(cheating at America's most popular game). Here, on the level of Catch Me If You Can by Frank Abagnale, the authors reveal how they assumed hundreds of identities, how they did it and how you can protect yourself, including (and especially) when you use the Internet. These two have been at it about a decade, in this country (including Las Vegas) and in Europe and Mexico. The authors contend there are many loopholes yet to be filled so the security division of every casino should be reading this book — hopefully they'll install countermeasures quickly to protect themselves. Too, the credit card industry, including MasterCard and VISA should have a copy. This is a well-written, well-detailed book on how thieves have operated and how they continue to operate in the 21st Century, with much emphasis on how the electronic era helps scam artists originate new twists.
Casino Dictionary: Gaming and Business Terms by Kathryn Hashimoto and George Fenich (114 pages, paperbound, $20.80) fills an important informational gap. In the past, books defining gambling terms and slang have been geared to players who needed to understand the term. Occasionally, but not in detail, material helped dealers and management. But here, the authors have designed a dictionary which defines casino industry words and terms. The more than 2,000 terms and phrases include names and rules of the most popular games, phrases used by dealers when referring to their bosses of customers, types of cheating techniques and common terms and phrases used by casino managers in marketing, accounting, finance, management and hotels and restaurants. This is a must for every casino library, dealing school, publicity department, gaming writer and gaming control board member.
A new
poker
game called Four-Card Double Draw has become popular recently. The book, written by Jim Mann (with the same title as the game, contains 18 pages and sells for $10 in stapled 5x8 format). It explains the game's rules, ranks the hands, explaining the rank of each; focuses on "irregularities of the game," and contains an index for the probabilities and statistics of the game.
Poker authors never seem to run out of unique titles for their newest work. Now comes N.R. Villarreal's
No-Limit Hold Em
: The Book of Blunders -- 15 Costly Mistakes to Avoid Playing No-Limit Hold 'em (54 pages, paperbound, $9.95). In a way, the book clears the path to common-sense play for those who recognize they have a problem — or some major flaws — they're just not ready to list them all and repair the damage. (
Editor's note: ReadyBetGo also has information on common poker mistakes)
Small chapters, with examples and solutions cover Nor Protecting a Big Pre-Flop Pair; Showing Weakness; Checking When the Board Plays; Bad Bluffs or Never Bluffing; Not Knowing Your Opponent; and Tilting are discussed in post chapter sessions called Analysis and What Would You Have Done? This is a nicely-priced tutorial which might help solve your poker weaknesses and get you back on the winning track.