Texas Hold'em Odds and Probabilities
by Matthew Hilger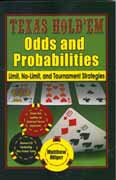 Even though the math behind the game of poker is fairly simple, some people still don't understand how to derive numbers and/or how to use them in action. Matthew Hilger, author of a best-selling book on playing poker on the Internet, takes the seemingly complex subject and breaks it down into usable information. He covers limit and no limit as well as tournament situations and focuses not just on how to calculate odds but also how to apply them to make better decisions. Because he uses everyday language and very few formula, his simple concepts and strategies mean you don't have to be a wiz in math. Illustrated with charts and diagrams, the book spans the math gap to cover the needs of the beginning, intermediate and the experienced player.
Read a review of Texas Hold'em Odds and Probabilities
Poker Stars

Poker Stars has reopened for most of the world, but not yet in the United States. It is endorsed by professionals like
Daniel Negreanu
and Chris Moneymaker. The site offers Texas Hold'em, Omaha, Omaha 8/b, 7 Card Stud, 7 Card Stud 8/b, Crazy Pineapple, Crazy Pineapple 8/b, Triple Draw, Royal Hold'em. Table limits range from penny games up to $300-600. The competition leans to the more challenging end of the spectrum.
Most poker players have short-term goals. They sit down at the table and they want to win money…now! Many players suffer having to close a session with a big loss. It kills them! How often have

Matthew Hilger is a professional poker player and respected author. In addition to the many articles on his own website, he writes columns for CardPlayer magazine, PokerPages.com and PokerinEurope.com. Matthew's next book, Texas Hold'em Odds and Probabilities: Limit, No-Limit and Tournament Strategies, will be released in June 2006. Matthew's website is www.internettexasholdem.com you stayed up late at night trying to get back to even? Do you always have in the back of your mind where you stand in a given session?
Unfortunately this type of mindset will hinder quality play. Trying to get back to even is a losing proposition. This is especially true when you are sleepy. You'll start to play a few more hands than normal hoping to hit that big hand. On the flop you might hold a weak draw but decide to go for it in hopes of hitting that one pot to get you back to even. You don't hit on the flop so you decide, "what the heck, one more bet won't hurt me", and you call the turn. You end up chasing in situations that have a negative expectation. You know better, BUT you just want to go to bed with a clean slate! In many cases you just keep digging yourself a bigger hole.
For all of those who can relate to the above I have one simple piece of advise…you can always get back to even tomorrow or the day after. Poker is one long continuous game which never ends. Thinking in terms of sessions or even weeks will throw many players into a bad mood a lot of the time. To approach this game with the right mindset you must think of your results with a long-term perspective. I always like to look at my results in terms of months.
The Internet is so great because there is always a game going. When things are going bad and you feel yourself start to press hoping for that one big pot, you are probably just better off quitting and waiting until another day to get things back on track. It's a pretty easy decision when you think about it. You can either dig yourself a bigger hole or come back another day with a fresh start. So remember, you can always get back to even tomorrow or the day after.
The last article in this series will look at Mistake #10: Playing Short-Handed with little experience.