More Book Reviews
Best Selling Poker Books of 2014
How did the new books compare to the old classics? Well, we will let the data speak for itself. Take a look at the list of the best selling poker books of 2014.
Deal Me In and Eat Professional Poker Players Alive Reviewed
There isn't a clear path by which people become professional poker players. There aren't any good courses at the local vo-tech for a person to study. The road to becoming a poker pro is inevitably difficult, circuitous, and filled with setbacks. Deal Me In is a book describing the course by which twenty top poker players became professionals.
Poker Winners Are Different
There is a big difference between what's typical human behavior and what is called for to play poker at a high level. There aren't a lot of people for whom maximizing their expectation in poker games comes naturally. Poker Winners Are Different by Alan Schoonmaker examines this conundrum.

Las Vegas Memories
by Jerry Fink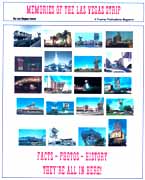 For the person who has been visiting Las Vegas for a long time, for the newbie to the swinging Strip and for those who have a longing for a bit of nostalgia, this book is a must-have. Subtitled Gone but Not Forgotten, the book focuses on casinos that have either been imploded, renamed, or eaten up by time. With pictures and text the authors provide a walk into past history for places like the Club Bingo, Desert Inn, Dunes, El Rancho, the Glass Pool Inn, the Klondike, Marina, Sans Souci, Silverbird, and more. It also takes a look at the Bally's/MGM monorail which no longer exists, the MGM fire, the World of Coca-Cola, Wet 'n' Wild, the Red Rooster as well as pictures and tibits of information about people -- showgirls and stars.

Vegas Today and Tomorrow
Visit the website 'Vegas Today and Tomorrow' for more details of the plans around the many upcoming Las Vegas projects. The site provides maps, renderings, and bit of history behind the current schemes.
Las Vegas Casino Death Watch
Nick Christenson's tongue-in-cheek Las Vegas Casino Death Watch is where gambling properties are listed much like an aging relative or sick friend. As Nick says 'We'll shed a tear when they're gone, but it may be time to take a dose of reality and come to terms with the fact that these places may not be around much longer, so we should enjoy them while they're still with us.' Photos, videos, news and other bits of information are provided.
Former Wisconsin resident Jerry Fink fell in love with Las Vegas and its colorful history years ago. He began searching archives, the Internet and any other sources, for photos, dates, names and places.

Howard Schwartz, the "librarian for gamblers," is the marketing director for Gambler's Book Club in Las Vegas, a position he has held since 1979. Author of hundreds of articles on gambling, his weekly book reviews appear in numerous publications throughout the gaming industry. Howard's website is www.gamblersbook.com
Then he broke all this information into four different 8x11 volumes of printed work to share with people who had like interests, understanding that some might want to know more about Downtown's history than the Strip. To complete the project, he created one volume devoted to the neighborhood hotels and casinos.
These books are well-priced, and they provide a marvelous resource for anyone who wants to know about this unique city, including the "who, what and when." They really should be seen in person, rather than being relegated to description. Here's what each of the four volumes contain.
The first is titled
Las Vegas Memories
. Published in late 2007, it sells for $24.95 and contains 184 pages in 8x11 paperbound format with 420 color and black and white photos. You'll find photos of Downtown Las Vegas from the 1900s to the 1980s and beyond, with photos and facts of places no longer in existence both on the Strip and off the Strip. (This volume contains some material found in the other volumes.) Those who remember the old Castaways, The Green Shack, Moulin Rouge, Club Bingo, Silver Slipper, El Rancho Vegas, Hacienda, Sans Souci, Silverbird, even Strip "roadhouses" like the Pair-O-Dice Club and Red Rooster will find memories.
A section called What Once Was is here, along with information about the years that certain sections or restaurants within a hotel opened; who owned it; who bought it; and who sold it. In easy-to-read print, colorful dating, this is a labor of love from a man who understands what makes the city special with its never-ending resurgence.
Memories of the Las Vegas Strip
(85 pages, 8x11, paperbound, $14.95) focuses solely on the Strip, informing readers which hotels opened in what year; what replaced it; if it was imploded, when; which famous entertainers appeared there; even motels like the old Desert Rose and the Glass Pool Inn. The volume includes Mob history—who owned (or was listed as owner or operator) hotels; descriptions of special events or tragedies.
In
The History of Las Vegas' Neighborhood Hotel/Casinos
(164 pages, 8x11 paperbound, $19.95), compiler Fink updates us on Arizona Charlie's, Boulder Station, the Cannery, Fiesta, Green Valley Ranch, Sam's Town and others. Clubs, motels, casinos and hotels are listed in alphabetical order, in chronological order. Here you'll learn of its earliest days; expansion; have access to some maps of location; find its original name and learn of transitional facts, like expansion or planned expansion. (By the way, Fink invites reader to comment, correct any errors or make additional contributions and tells you how to find him.)
The fourth volume is
Las Vegas
' Off-Strip Hotel/Casinos: The Past—The Present—The Future
(160 pages, 8x11 paperbound, $19.95). Packed with more than 100 photos, in this work you'll even find about street name changes and when they occurred; unnamed projects yet to be completed; condos in the works or finalized; dates hotels and other resort entities which opened, when they closed and name changes. There are phone numbers for use within Nevada, toll-free numbers and a few maps to help newcomers or visitors find their way around the city.
This is a fine combination of history—past, present and future from a dedicated historian, researcher and resident.