Las Vegas: the Best of Glitter City
by Don Martin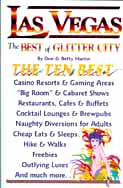 Not your typical city guide to Las Vegas, this one takes you not just to the Ten Best (casinos, gaming areas, odds, restaurants, buffets, freebies, shows, bars, publs, chapels, attractions, shopping, etc), it goes several steps beyond. In addition to addresses, phone numbers, and facilities supplied, it presents it in a fun manner with plenty of trivia thrown in. Some of the attractions could be considered out of the way but that's what makes the guide so special. You get introduced to places heretofore kept secret by locals.

I'll Do My Own Damn Killin'
by Gary Sleeper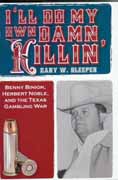 Benny Binion was a larger-than-life casino mogul who was build a legend for himself in Las Vegas. But before that, he led the Texas underground in a gambling war that lasted over fifteen years before he was "sentenced" to Las Vegas where he became the patron saint of World Series of Poker. In this new look at the man author Gary Sleeper presents previously unseen details of Binion's pre-Las Vegas life and spices it with electrifying details and sharp wit.