More Book Reviews
Best Selling Poker Books of 2014
How did the new books compare to the old classics? Well, we will let the data speak for itself. Take a look at the list of the best selling poker books of 2014.
Deal Me In and Eat Professional Poker Players Alive Reviewed
There isn't a clear path by which people become professional poker players. There aren't any good courses at the local vo-tech for a person to study. The road to becoming a poker pro is inevitably difficult, circuitous, and filled with setbacks. Deal Me In is a book describing the course by which twenty top poker players became professionals.
Poker Winners Are Different
There is a big difference between what's typical human behavior and what is called for to play poker at a high level. There aren't a lot of people for whom maximizing their expectation in poker games comes naturally. Poker Winners Are Different by Alan Schoonmaker examines this conundrum.

Jackpot Nation
by Richard Hoffer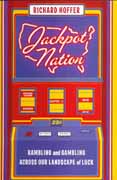 Estimating that Americans bet somewhere in the neighborhood of $80 billion last year, the author, a senior writer for Sports Illustrated wandered across the landscape showing us how we gamble, why we gamble, and why the biggest opponents of gambling are now the biggest fans. He visits trade shows, hangs around underground poker games, hustles for a side of bacon in a Minnesota bar, looks over expansion plans with a tribal chief, and pretty much looks at every angle of chance taking.
Those who wonder why people gamble too much (or gamble at all), and where this nation is headed with regard to risk-taking (it's an $80 billion a year industry), perhaps where it's headed

Howard Schwartz, the "librarian for gamblers," is the marketing director for Gambler's Book Club in Las Vegas, a position he has held since 1979. Author of hundreds of articles on gambling, his weekly book reviews appear in numerous publications throughout the gaming industry. Howard's website is www.gamblersbook.com internationally, will want to read Richard Hoffer's Jackpot Nation (241 pages, hard bound, $24.95). This book has many markets—individuals examining their own addictions or their geared-up interests in risk-taking; casinos wondering how to hook more new customers with more creative "lures" and those who are trying to help others who have fallen off the wagon and are out of control.
Hoffer answers a lot of questions: What does Las Vegas do better than any other place and in the world (do we have to wonder why Macau or Australia will "copy" the very best of what the city offers in the way of flash and entertainment)?
How did it all start and where will it end? How is it (hypocritically) legal to gamble in one state or one country and not in another?
To satisfy his curiosity, Hoffer traveled, experienced, participated, asked questions, observed and then put it all down on paper in this fascinating trip across America. This Los Angeles Times and Sports Illustrated writer calls Las Vegas "gambling's ground zero, its fertile crescent, where the riotous search for destiny first sprang to life." In short, it all started here in 1931. He must have taken a crash course in Las Vegas history because he's got most of it down pat; but it's his personal actions that are fascinating. He remembers how far $20 went at the 21 tables 25 years ago. "Inflating works on our greed as surely as it does on our economy…" He describes how he began to 'crave" the action proving that he has been there and back and he writes as if it's in his blood and understands what the attraction is and what it continues to be for many.
Hoffer bets on basketball, comparing that sport to others and how much action March Madness produces, because everyone's got a team, a hunch, a favorite school from a favorite state.
He examines how the media, which once thumbed its nose at various forms of play, now "adopted" poker as its favorite, in big-name print and electronic media.
His views on how certain religious groups, for example, the Mormons, may have led the charge on cracking down on poker in Utah for example, are interesting, along with a look at how others raking in millions online and in tournaments.
One of the juiciest chapters discusses golf hustling. "A Harvard study in 2002 found that golf bettors outnumbered the puritans by five to one," Hoffer says. He adds … "for someone with a little hustle in his heart, there is a lot to work with." The chapter offers some colorful tidbits about the legendary Titanic Thompson who was "far more interested in the edge he could get" from the game and once spotted Byron Nelson three strokes and won $3,000 from Nelson's backers.
Hoffer's knack of elevating himself above the din and road—like an observer of some bizarre, sometimes out of control circus and his way with words, makes this a fast, easy read. This book itself moves fast—geographically and from game to game. There's the lure of slot and video poker machines along with the mindset of manufacturers and what the role of random number generator is in modern times. There's the astonishing growth of Indian casinos. There's information on how cheaters operate. There's insight into his inability to get $100,000 down in a sports book (a "set-up" by an unidentified sports bettor who wanted to prove a point). They all get attention in Jackpot Nation, as do pulltabs, bingo, the lottery as a means of generating revenue for states and charities.
You may or may not agree with Hoffer's predictions for the future, but he's right on target about government hypocrisy and his distaste for the never-ending march of the "pleasure police" in dictating what recreational escapes Americans should be allowed to participate in. As one other reviewer observed, "Hoffer doesn't have a dull sentence in him."