The Unofficial Guide to Casino Gambling
by Basil Nestor

Basil Nestor incorporates decades of gambling knowledge to give the reader insight into probability, common gambling mistakes, and winning strategies in his popular book, The Unofficial Guide to Casino Gambling. Covering all the bases of casino gambling including machine games (slots and video poker), table games (blackjack, roulette, craps, baccarat, poker), and waiting games (keno and sports betting) the book also has sections on how to get casino comps, gambling systems, a history of gambling in the US, and much more.
Casino Tropez Roulette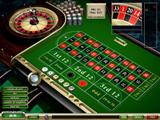 Casino Tropez offers two versions of roulette: American Roulette with two zeros and European Roulette with one zero (recommended). The limits start at $.50 up to $25. All versions include a history of numbers hit and a close-up of the wheel. The graphics and sounds are excellent
The various systems that we covered in the previous sections may be fun to play, but they don't do anything to change the casino's advantage. If you
play roulette
using one of those

Basil Nestor is the author of the new Playboy Complete Guide to Casino Gambling. This wonderful book teaches players how to avoid sucker bets and win more when playing gambling games. He is also the author of The Smarter Bet Guide series for video poker, slots, craps, and many other books about gambling. Basil's website is www.smarterbet.com
system, or another betting scheme, or you just make random wagers, your
bankroll
will begin to shrink sooner or later. The only way to slow this process (or prevent it altogether) is to lower or eliminate the
house edge
.
One way to squeeze the casino is to play a European-style single-zero wheel. This cuts the house edge from 5.26 percent down to 2.7 percent. That's a considerable chunk.
Happily, you don't have to visit Monte Carlo to play a European wheel. Many American casinos and gambling websites have them. But sometimes it's with a catch. The European wheel will have a higher table minimum than a double-zero version at the same casino. No problem if you were planning to risk the extra money, but don't play for higher stakes just to get a lower house edge.
Some American casinos (primarily those in Atlantic City) offer a modified version of the European rule en prison; it's called surrender. When surrender is allowed, a 1:1 bet that loses to zero or double-zero is only half-lost. You can leave the bet on the layout and hope for a push or take half back. Surrender cuts the house edge on 1:1 bets down to 2.63%.
As I mentioned previously, en prison on a European wheel drops the house edge on 1:1 bets down to 1.35%. The extra spin is mandatory in Europe, which is why they say "en prison."
Avoid the Five-Number Bet
A five-number bet (zero, double-zero, one, two, and three) is available only on American wheels. The house edge is a hefty 7.89%. It's a bad bet; don't make it. If you truly have a vision that one of those numbers will win, then bet it straight up or make a street or split bet. That will cut the house edge by more than two percent and will return between two to six times more than a five-number bet.
If you're betting mostly on individual numbers, it's a good idea to have a bankroll that will last comfortably for sixty to eighty spins (about two hours of play). Inside bets are extremely volatile, and it may take a while before your numbers comes up.
[Additional optimal strategies for roulette including strategies for detecting wheel bias and dealer signature can be found in Basil Nestor's book The Unofficial Guide to Casino Gambling.]