European roulette (sometimes called French roulette) is similar to the
American version
, but the European contest has a few distinct differences. The biggest difference is that there is no double-zero

Basil Nestor is the author of the new Playboy Complete Guide to Casino Gambling. This wonderful book teaches players how to avoid sucker bets and win more when playing gambling games. He is also the author of The Smarter Bet Guide series for video poker, slots, craps, and many other books about gambling. Basil's website is www.smarterbet.com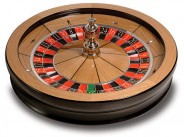 This single zero European Roulette wheel is made by Cammegh, a well-regarded roulette manufacturer.
on the wheel. This cuts the house edge down to 2.7 percent.
Another difference is a rule called en prison; bets on red, black, odd, even, high, or low that lose to zero are not automatically lost. Rather, they are "trapped" on the layout for another spin. If the bet loses a second time, the dealer takes it. If it wins the second spin, the player gets it back (resulting in a push). This cuts the house edge on 1:1 bets down to 1.35 percent.
Yet another difference is the numbers on a European wheel. They are arranged differently than on an American wheel. Mathematically, this has no significance, but the alternate arrangement of numbers is the basis for a whole other system of betting used in Europe that is known as call bets. These are bets that you verbally request. Dealers handle them in a way that is similar to the way dealers handle place bets in craps (if you're playing online, a call bet it simply a combination bet).
Call bets come in various types. As we review them, remember that bets on combined numbers pay the same as if the single numbers have been wagered individually. Also note, these bets originated in France, so they have French names.
Some American casinos offer surrender which is a modified version of the European rule en prison. If surrender is allowed, then 1:1 wagers that lose to zero or double-zero are only half-lost. You can leave the bet on the layout and hope for a push or take half back. Casinos in Atlantic City have this option and it cuts the house edge on 1:1 bets down to 2.63 percent.
Voisins du Zero (Neighbors of Zero): This bet covers seventeen numbers in an arc between 22 and 25. It costs nine chips. The numbers 0-2-3 are covered with two chips, and the remaining fourteen numbers are covered with seven chips. You win fifteen chips net if the ball drops on 0-2-3, and you win nine chips net if it drops on any of your other numbers.
Tiers du Cylindre (One-Third of the Cylinder): This bet covers the twelve numbers in an arc between 27 and 33. It costs six chips and pays 2:1.
The remaining eight numbers on the wheel located in mini-arcs 1-9 and 6-17 are called appropriately orphelins (orphans).
Orphelins en Plein: This covers the orphans with one chip on each number. It costs eight chips and pays 7:2.
Orphelins a Cheval: This bet covers the orphans with one chip on 1, one on 17, and the remaining three chips on the other numbers (technically 17 is bet twice with a split, but the practical result is a one-chip bet) . You win thirty-one chips net if the ball drops on 1 or 17. You win thirteen chips net if the other numbers win.
Neighbor Bets: This bet covers any number and the slots to the left and the right, either three, five, seven, or nine numbers in all. In a casino you would say "25 and its neighbors," naming whatever number is in the center of the group. The bet costs one chip for each number.
Typically, call bets are placed on a special "race track" which is an elliptical representation of the wheel.
One other major difference between European and American versions of roulette is that the Europeans do not use special roulette chips. Everyone uses standard casino chips. This requires attentive dealers (as in craps) to be sure that nobody is cheated.
If you find a European (single-zero) wheel in an American casino, don't assume that the dealers will know about French call bets or en prison. Be sure to check the upright card for the rules of the game or ask the dealer before making your bets.