TORONTO, Ontario – CryptoLogic Inc has , announced the extension of its exclusive licensing agreement with Marvel Entertainment, Inc., one of the world's premier character-based entertainment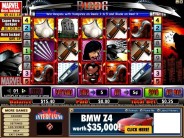 Marvel Comics' Blade Video Slot at Intercasino.com companies. CryptoLogic will remain the sole, worldwide developer of Marvel-branded Internet casino games through 2010.
"CryptoLogic's success is built on our strong relationships with the world's most trusted entertainment brands — and Marvel is one of the best brands to showcase our unique casino product," said Lewis Rose, CryptoLogic's President and CEO. "CryptoLogic's action-packed Super Hero™ themed casino games deliver exciting play, stunning visuals and a competitive edge for our customers. We're building player loyalty by providing a superior entertainment experience."
Since 2005, CryptoLogic has launched more than 10 slot games featuring Marvel's amazing characters — including the Hulk, Daredevil, X-Men, Blade and the Punisher — at some of the world's top Internet casinos. The Thor slot incorporates heavy-hitting animation that summon the thunder god's mighty hammer, while Silver Surfer's stunning visuals enable players to fly through galaxies of bonuses — for as little as 5 cents.
Through CryptoLogic-developed software, players can also help Iron Man shatter skyscraper windows to unlock hidden bonus gems, back Ghost Rider as he drives through a spooky scrap yard to help trapped innocents, or bet on Elektra as she faces off against enemy ninjas. Starting in June, fans of Marvel will also be able to join forces with Wolverine and Captain America, and enjoy the smashing animation of the __Hulk slot game__ sequel.
"CryptoLogic continues to deliver unique gaming concepts that are totally in tune with today's players," said AJ Slivinski, WagerLogic's Managing Director. "From outstanding bonus features to breathtaking graphics, sound and animation, CryptoLogic is strengthening its competitive edge — and offering some of the most innovative entertainment available on the Internet today."
CryptoLogic
55 St. Clair Avenue West
3rd Floor
Toronto, ON M4V 2Y7
Canada
Phone: (416) 545-1455
Fax: (416) 545-1454
Website: www.cryptologic.com

CryptoLogic is a leading software developer in the rapidly expanding Internet gaming industry. Individuals registered in 240 nations and territories worldwide use their software.