LuckyAce Casino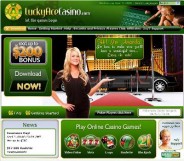 LuckyAce Casino is a new white-label casino that uses 888 software, the same platform that powers one of the oldest and most respected online gambling sites on the web, Casino-on-Net. LuckyAceCasino.com has all the most popular games including: BlackJack, Craps, Video Poker, Roulette, Keno and over two-dozen slot machines with better odds than a Las Vegas casino room. LuckyAce Casino does not accept US players.
32 Vegas Top Spot for Gamblers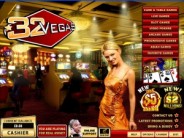 32 Vegas has a huge variety of slot machines, enough to satisfy any slot fanatic. The casino has over 30 video and classic slots to choose from including 7 progressives. You can play as little as a penny per spin all the way up to $5 per line. There are 2,3,5,8, and 9 line slots. Some of the outstanding video slot titles are Gold Rally, Vacation Station and Desert Treasure. Popular classic slots include Fountain of Youth, Bermuda Triangle, and Haunted House. With great variety, fantastic graphics, and innovative themes, 32 Vegas slots are a good thing.
MIAMI, Florida -- Online poker players at Absolute Poker have a whole bunch of reasons to be looking at life with a much rosier outlook today after sharing in $813,341.85 when HDCOWBOY, a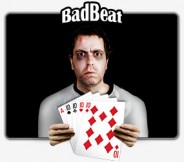 65-year-old resident from Pennsylvania, 'lassoed' the latest Bad Beat Jackpot on the eve of Valentine's Day.
HDCOWBOY reigned in the jackpot on Friday, January 13th at 23:35 ET when he lost a hand of Texas Hold'em at Absolute Poker's Bad Beat Jackpot tables. Losing with four eights to RANGERXBOB's quad Kings, HDCOWBOY immediately set off Absolute Poker's Bad Beat Jackpot bells to the tune of $813,341.85.
For his loss at the table, HDCOWBOY secured $264,418.89. The winner of the hand left the table $132,995.95 richer and five other players who were seated in the hand each took home $1,082.79 in cash. 1028 other players each pocketed $82.79 for no other reason than they happened to be playing at Bad Beat Jackpot Tables with the same stakes.
HDCOWBOY looks forward to sharing the good news with his Bank Manager, when he reveals plans to settle the bulk of his Home Mortgage with the Bad Beat Jackpot windfall.
Thanks to CEREUS, the poker network that Absolute Poker joined late last year to provide its players with bigger promotions, enhanced features and tighter security, the number of players seated at Bad Beat Jackpot tables has grown significantly.
Bad Beat Jackpot games are traditional Texas Hold'em poker with an added jackpot component. $0.50 is collected from qualifying poker hands and placed into a constantly growing pot until someone hits the jackpot.
When an online poker player loses a hand with four 8s or anything better, 65% of the jackpot is divided among Bad Beat Jackpot players with a large portion of the remaining pot held over for the next jackpot. All players seated at a Bad Beat Jackpot table featuring the same limit and game type as where the bad beat occurred also win a piece of the jackpot.
Sky-high Bad Beat Jackpots aren't uncommon at either of the CEREUS Poker Network's online poker sites--players at UltimateBet and Absolute Poker have both witnessed a number of monster jackpots near the million-dollar mark--but with CEREUS, Texas Hold'em players can keep on looking forward to much larger jackpots, more often.
Absolute Poker is paying online poker players for their losing hands and Texas Hold'em fans from around the world are 'saddling up' at the site for a piece of the next Bad Beat Jackpot, currently sitting at $83,552.61 and climbing at 03:18pm ET on Sunday, February 15.*
Full details on the CEREUS Bad Beat Jackpot game can be found at absolutepoker.com and ultimatebet.com.
*Congratulations to this weekend's second Bad Beat Jackpot winner SFBEGGARS, who hit the $308,156.46 Jackpot on Sunday, February 15 at 12:55pm ET to the tune of $100,346.90.
Absolute Poker
AbsolutePoker.com is the world's fourth largest online poker site, offering worldwide access to multi-player online games 24 hours a day, seven days a week. Powered by proprietary software, AbsolutePoker.com offers hand history, stat retrieval, player note-taking, chat, "locate a player," six-player tables, customizable table "skins" and representative image selection. Multi-player games include Texas Holdem, Omaha High, Omaha Hi/Lo, Seven Card Stud, Seven Card Stud Hi/Lo, and a complete selection of Sit and Go and Multi Table Tournaments. Established in 2003, AbsolutePoker.com is licensed and regulated in Canada.