MIAMI, Florida -- Go to AbsolutePoker.net, where you can combine a passion for Poker with the ultimate male fantasy to win your way to the Kandyland Party at the Playboy Mansion.
AbsolutePoker.net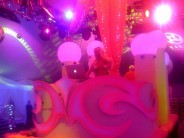 Kandyland Party at the Playboy Mansion is gearing up to make every man's sweetest fantasies come to life for 12 lucky Texas Hold'em players. The leading free-play online poker site today announced that it's giving away six trips for two to the Kandyland Party at the Playboy Mansion, getting underway on June 13, 2009.
The event, which is described as the place to "expect an evening of decadence," features the ultimate sensory experience, with a bevy of Playmates, outrageous performances from the exotic Kandy Go-Go Dancers, body-painted Kandy-Models, some of the best DJ's spinning sexy house and rock mix grooves, an open premium bar, special cuisine, and more.
AbsolutePoker.net is the only online poker site granted access to the invite-only party and valued players at the site can share this once-in-a-lifetime experience simply by playing poker for free.
Beginning February 16th, online poker players are invited to play in AbsolutePoker.net's free daily satellites where the top 30 players will secure a spot in a second round tournament the following Sunday. The top 10 players in each Sunday tournament will then win a seat in one of three final events where the top two finishers will each win a Playboy Mansion prize package valued at $6,500.
Each package features includes:
* Two VIP invitations to the Kandyland Party - where you will enjoy VIP treatment with your own private cabana, champagne, personal waitress, and unlimited Grey Goose Vodka
* VIP Tour of the Playboy Mansion by a Playmate
* Money for travel and accommodations
Online poker players should download Absolute Poker's free poker software at www.absolutepoker.net and enter a daily qualifier for free.
Full details on this promotion can be found at absolutepoker.net. Kandyland Party at the Playboy Mansion is produced by Ascendant Marketing & Media, LLC and the Karma Foundation. Playboy is not a sponsor of this event or tournament."
Absolute Poker
AbsolutePoker.com is the world's fourth largest online poker site, offering worldwide access to multi-player online games 24 hours a day, seven days a week. Powered by proprietary software, AbsolutePoker.com offers hand history, stat retrieval, player note-taking, chat, "locate a player," six-player tables, customizable table "skins" and representative image selection. Multi-player games include Texas Holdem, Omaha High, Omaha Hi/Lo, Seven Card Stud, Seven Card Stud Hi/Lo, and a complete selection of Sit and Go and Multi Table Tournaments. Established in 2003, AbsolutePoker.com is licensed and regulated in Canada.