MIAMI, Florida -- An online poker player from Houston, Texas has secured a brighter future for his growing family after hitting the Bad Beat Jackpot at Absolute Poker. Z8ELDRED popped Absolute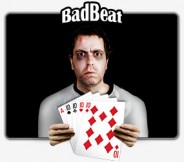 Poker's $212,546.02 on March 2nd. For his loss, the Texas Hold'em fan walked away with $69,207.23.
"It was unbelievable," stated Z8ELDRED after his account was credited with nearly $70,000. "Winning the Bad Beat Jackpot at Absolute Poker is great for me and my family."
The jackpot was hit on March 2nd shortly after midnight when Z8ELDRED lost a Jack-high Straight Flush to a King-high Straight Flush. At ordinary Texas Hold'em tables, a loss like that would leave any poker player feeling crushed. But at Absolute Poker's Bad Beat Jackpot tables, it pays to lose.
When an online poker player is seated at a Bad Beat Jackpot table and loses a hand with four 8s or anything better, 65% of the jackpot is divided among Bad Beat Jackpot players with a large portion of the remaining pot held over for the next jackpot. All players seated at a Bad Beat Jackpot table featuring the same limit and game type as where the bad beat occurred also win a piece of the jackpot. Bad Beat Jackpot is just like traditional Texas Hold'em poker with an added jackpot component. $0.50 is collected from qualifying poker hands and placed into a constantly growing pot until someone hits the jackpot.
With a baby on the way, Z8ELDRED, who has been playing online poker at Absolute Poker for two years, notes that the extra cash will come in handy, particularly in today's economic climate.
This isn't the first time that Z8ELDRED has found success at Absolute Poker's online poker tables. And it's not just a losing hand that has netted the Absolute Poker player tens of thousands in cash. On Sunday, December 28, 2008, the software engineer from Houston, Texas earned $44,600 after finishing first in Absolute Poker's $200,000 Guaranteed Texas Hold'em tournament.
Absolute Poker
AbsolutePoker.com is the world's fourth largest online poker site, offering worldwide access to multi-player online games 24 hours a day, seven days a week. Powered by proprietary software, AbsolutePoker.com offers hand history, stat retrieval, player note-taking, chat, "locate a player," six-player tables, customizable table "skins" and representative image selection. Multi-player games include Texas Holdem, Omaha High, Omaha Hi/Lo, Seven Card Stud, Seven Card Stud Hi/Lo, and a complete selection of Sit and Go and Multi Table Tournaments. Established in 2003, AbsolutePoker.com is licensed and regulated in Canada.