ReadyBetGo's contributing authors
Jerry Patterson
and
Sharpshooter
have announced the upcoming release of their new book on dice control entitled
Winning Dice Control Techniques: Shooting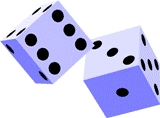 Dice control is a hot topic among craps players. Craps from the ZONE
. Patterson and Sharpshooter originated the Dice Control Revolution 10 years ago with the publication of the Sharpshooter/PARR Dice Control Course with now close to 2,000 graduates.
Controlling the Dice and attaining an edge over the house is, by far, the most poplar gambling topic on the Internet.

Jerry Patterson is author of five gambling books including the best selling Casino Gambling, the first book containing instruction on how to set and control the dice.
Sharpshooter is the author of the best selling How to Control the Dice, considered by many as the Bible of Dice Control, and probably responsible for more successful dice controllers than any other book.
Sharpshooter's Dice Control Team, called "Rosebud," was recently featured on the History Channel. Two of his students featured on that show are now using his dice control techniques to play craps professionally.
Here is a list of sample chapters/articles that will be distributed for web publication.
Basics of the Controlled Throw
• Shooter Selection Secret: How to Qualify a Dice Controller and Bet on his/her Hand
• Getting Started with the Basics: Set, Grip & Delivery Explained
• Basics of Shooting from The ZONE

Intermediate Dice Control Techniques
• Posture and Breathing Considerations
• Choosing the Table Position(s) that is best for you
• Alternative Grips and how to Find which is best for you
• How to launch the dice at the correct height above the table to achieve a soft landing;
• How to Avoid the Dreaded
Double Pitch
Leading to the 7-out
• How to Throw with Control: "Ready, Aim, Fire!"
• The 13-point Check List for running down the entire Controlled Throwing Process
• Shooting from The Zone – Calm Conditioning
Betting Tactics for Dice Controllers
• Basic Betting Tactic for practice and for qualifying and betting on the random rollers
• A Potpourri of Betting Tips and Tactics
• Using the Zone to Create/Anticipate Long Hands
Advanced Dice Control Techniques
• Sharpshooter on the Fingertip Grip
• Sharpshooter on the "Double Bounce"
• Sharpshooter on "Point of Contact" with the Back Wall
• Betting Tactics for High and Low Rollers
• The Zone – Power Visualization
You can read excerpts and sample articles from this new book right here at ReadyBetGo. Visit our
dice control
section for more information.