Fundamentals of Craps
by Mason Malmuth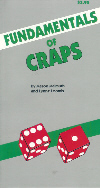 Perfect for the beginner. Part of casino master Malmuth & Loomis' Fundamentals series which discusses the history of the game, getting started, the layout, crew, basics of play. Moves immediately to the Right bets, including the Pass Line, taking odds, Come Bets. Next are the Wrong bets, including the Don't Pass Line bet, laying the odds, and the Don't Come bet. Explains multiple roll bets and one roll bets. Small section on money management, systems and Oscar's Grind.

Smarter Bet Guide to Craps
by Basil Nestor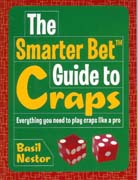 Some craps bets are good, some are not-so-good, and some are for suckers. The Smarter Bet Guide to Craps separates the best from the rest, and makes craps easy to learn. Everything is here in a clear-cut format: Table layout, dice-shooting techniques, a detailed analysis of every craps bet, and mathematically proven strategies that help lower the casino's advantage. A good basic guide to the game for players who are just starting out.