Club USA Casino Blackjack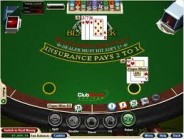 Club USA Casino Blackjack is the best bet for practicing blackjack basic strategy without stress and distractions. The game comes in both free play and real money modes and you can play up to three hands on your own table. The rules are favorable and with a house edge of only 0.71%, better than many casinos. The table minimum is $1 per hand and the maximum is $500.
NEW YORK -- What happens when you cross the thrill of tournament poker with the skill level of
blackjack
? You get the newest wave in online gambling to take over the Internet, Elimination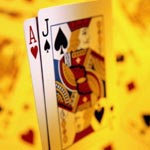 Blackjack.
Elimination Blackjack will include seven players with the ultimate goal to accumulate as many chips as possible. It will be played similar to blackjack in the casino but with a few key twists. After eight, sixteen and twenty five hands played, the player with the least about of chips is eliminated from the competition. Basically, the tension and excitement level of tournament poker has been merged with blackjack.
One of the most interesting aspects to Elimination Blackjack is the "Secret Bet." Each player will be allowed to make one "secret bet" per round. This means the other players will have no idea how much their opponent will have at risk for the upcoming hand adding the element of bluffing to the game of blackjack.
"This unique blend of blackjack combined with aspects of
tournament poker
we believe have mass appeal to both poker and blackjack players," stated Chris Welch Managing Director of Loudvision, UltimateBet's marketing agency. "The response from those that have trialed Elimination Blackjack has been overwhelmingly positive and we look forward to large numbers of players in the months ahead."
In addition, UltimateBet.net is a charter member of the new Ultimate Blackjack Tour on CBS. The television show will feature Team UltimateBet including legendary poker player,
Phil Hellmuth
,
Annie Duke
, Antonio Esfandiari and Freddy Deeb all vying for the $1 million prize. Episodes will begin to air on September 16th.
Ultimate Bet is one of the most respected poker sites online and is endorsed by professionals like Annie Duke and Phil Hellmuth. The site offers Texas Hold'em, Omaha, Omaha 8/b, 7 Card Stud, 7 Card Stud 8/b, Crazy Pineapple, Crazy Pineapple 8/b, Triple Draw, Royal Hold'em. Table limits range from penny games up to $300-600.