LOS ANGELES, California -- Proving that skill and experience are valuable assets in the Ultimate Blackjack Tour (UBT), World Champ Ken Einiger took down a field of pros and novices alike at the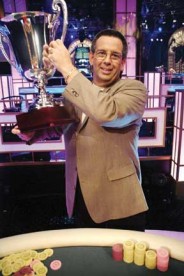 Ken Einiger, the winner of the 2005 World Series of Blackjack St. Kitts Classic Friday to add another notch to his highly-decorated blackjack belt.
Einiger cashed in for $64,000 in prize money during the no holds barred Elimination Blackjack™ tournament, as well as his second gold UBT champion's necklace and a $10,000 seat at the year-end UBT championship at California's Barona Valley Ranch Resort & Casino, which boasts a $1 million guaranteed first place prize with an estimated $2 to $3 million total prize package. CBS will televise Einiger's masterful performance during a 2007 airing of Ultimate Blackjack Tour.
"I've played in hundreds of blackjack tournaments, and with the exception of my World Blackjack Championship in 2005, none were as exciting as this," said Einiger. "I wrote the official book on how to succeed in UBT's Elimination Blackjack™ tournaments, so I guess it's fitting that I bring home a couple championships along the ride."
Einiger is a member of the fourteen player Team UBT, which includes well-known card pros Phil Hellmuth, Annie Duke, Freddy Deeb, Antonio Esfandiari, Anthony Curtis and many others. His latest book Play to Win: A World Champion's Guide to Winning Blackjack Tournaments was updated this year to include Elimination Blackjack™ tournament strategies and insights. Monica Reeves, an up and coming star in the UBT ranks who won a season one tournament, attributes much of her success to the tips she picked up after studying Einiger's book.
The St. Kitts tournament was the second of several stops along Ultimate Blackjack Tour's inaugural world tour, which brings Elimination Blackjack™ to major casinos in Las Vegas, California, Paris, the Caribbean and several other internationally known gaming locales.
The ten-episode first season of Ultimate Blackjack Tour, currently airing nationwide on CBS with record-breaking numbers, features the world's top poker and blackjack pros in cut-throat action against the dealer, and one another. Chock full of forced eliminations, secret bets and smash mouth trash talking, the season also includes two special episodes: The Ladies of Blackjack, which showcases top female gamblers the likes of Annie Duke, Jennifer Tilly, Monica Reeves and Erica Schoenberg, and The Legends of Blackjack, featuring Einiger against pro blackjack cohorts Anthony Curtis, Stanford Wong, and others in exciting, head-to-head competition.
Ultimate Blackjack Tour
The official website for the Ultimate Blackjack Tour gives you a peek at the excitement behind this new show. The Tour programs will be shown on CBS beginning in September of 2006.