Club USA Casino Blackjack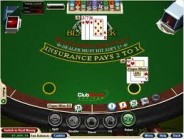 Club USA Casino Blackjack is the best bet for practicing blackjack basic strategy without stress and distractions. The game comes in both free play and real money modes and you can play up to three hands on your own table. The rules are favorable and with a house edge of only 0.71%, better than many casinos. The table minimum is $1 per hand and the maximum is $500.

Absolute Poker
The forth largest poker room on the Net, Absolute Poker is one of the most flexible sites out there. Absolute has recently introduced over 100 table skins so that you can choose the exact look and feel you prefer when you play poker. You also have the ablity to make your own skins. The site also has a Spanish version.
SAN JOSE, Costa Rica -- Absolute Poker (www.absolutepoker.com), the fourth largest online poker website in the world, has announced that it is expanding its line-up of online games to include Blackjack.


To celebrate this addition to the site, Absolute Poker will be extending its 200 per cent first-time bonus deposit (up to $200) to new Blackjack players on their first purchase. Players can also go up against the Blackjack dealer for their chance to win up to $5,000 with Absolute Poker's '7 Madness' option.
"Blackjack is often a popular choice for players due to the mix of skill and chance involved," explained Mike Edwards, marketing manager at Absolute Poker. "We're really excited to offer this new game option to our players and to expand beyond our passion for poker. Our site continues to support core poker enthusiasts and with this addition provides a more fun and competitive environment for everyone."
Blackjack, also known as 'twenty-one' or 'pontoon' in some other countries, is one of the most popular casino card games in the world. The game got its start in French casinos around 1700 and was originally called 'vingt- et-un' ("twenty-one"). When it was first introduced in the United States in the early 1800s, gambling houses tried to boost its popularity by offering various bonus payouts to get players to the tables. One such bonus was a 10-to-1 payout if the player's hand consisted of the ace of spades and a black Jack (either the Jack of clubs or the Jack of spades). This hand was called a "blackjack" and the name stuck even though the bonus payout was soon abolished.
The object of Blackjack consists of a player trying to get nearer to a point total of 21 than the dealer, without exceeding 21. Should a player or the dealer exceed a point total of 21, this is known as a "bust". If you bust, you lose your wager. Should the dealer bust, the dealer pays the player for point totals less or equal to 21. If there is a tie (known as a "push"), a player keeps the original wager.
Players interested in learning more about Absolute Poker's new Blackjack offering can visit www.absolutepoker.com/blackjack for more information.
Absolute Poker
AbsolutePoker.com is the world's fourth largest online poker site, offering worldwide access to multi-player online games 24 hours a day, seven days a week. Powered by proprietary software, AbsolutePoker.com offers hand history, stat retrieval, player note-taking, chat, "locate a player," six-player tables, customizable table "skins" and representative image selection. Multi-player games include Texas Holdem, Omaha High, Omaha Hi/Lo, Seven Card Stud, Seven Card Stud Hi/Lo, and a complete selection of Sit and Go and Multi Table Tournaments. Established in 2003, AbsolutePoker.com is licensed and regulated in Canada.