Slots are Loose Online!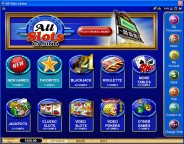 All Slots Casino has one of the largest collection of slots and some of the loosest slots on the web. Their selection is huge and with less overhead, employee costs and taxes than your typical brick and mortar casino, they can afford to give back a bigger percentages of bets back to the customer. Check it out!

Strictly Slots
Strictly Slots, as the name suggests, is the leading monthly magazine in the United States for slot players, but is also much more. It contains informative, intelligent articles that introduce you to all the latest machines, both slots and video poker, before they even reach the casino floor. Its team of writers include Bob Dancer, Jeffrey Compton, Frank Legato and Frank Scoblete who will provide you with winning strategies and inside information on the best slot clubs. The magazine also takes a look at all the amenities being offered in today's casinos to make your visit a pleasant and profitable experience. If you play the slots, you'll love Strictly Slots magazine.
Licensed casinos in North America are required to report the
actual
payback percentages of their slot machines to regulators. That information is available to the public in most states and in Canada.

Basil Nestor is the author of the new Playboy Complete Guide to Casino Gambling. This wonderful book teaches players how to avoid sucker bets and win more when playing gambling games. He is also the author of The Smarter Bet Guide series for video poker, slots, craps, and many other books about gambling. Basil's website is www.smarterbet.com
Thankfully, you don't have to call a dozen different agencies to get those numbers. They're collected, organized, and published in the magazines
Casino Player
and
Strictly Slots
.
For example, I can tell you that reports in October 2005 show Trump Taj Mahal had the loosest dollar slots in Atlantic City. They returned an average of 93.9 percent. The tightest dollar slots were at Harrah's; they paid a stingy 91.5 percent. The absolute tightest slots in Atlantic City were Showboat's nickel slots. They paid 88.1 percent.
The figures are published monthly and they vary a bit over time, so you shouldn't judge a casino only by one chart. But I can tell you that Showboat's nickels were tightest in September and August, too. Read the charts for a few months and it's easy to see which casinos and machines are consistently looser.
Casino Player and Strictly Slots are published by Casino Publishing Group. You can subscribe via the web at www.casinocenter.com or by telephone: 1-800-969-0711. Both magazines are also available at major newsstands and bookstores.
Define Your Game
Slot charts are an important first step, but they have limitations. They don't tell you where the best games are in a particular casino, and in some jurisdictions the numbers are published by region rather than property. For example, the charts show that North Las Vegas is looser than the Strip, but they don't say how Texas Station stacks up against the Flamingo.
Another limitation of the charts is that video poker is included in the numbers. As you know, video poker (played with optimal strategy) has a significantly higher payback, and that tends to skew the figures upward.
So the next step in slots optimal strategy is a personal choice. Where do you want to play? What games do you like? You already know the variables. But how will you apply them? Here are some options to consider.
IGT has a toll-free hotline that provides the current progressive jackpot amounts of all their Megajackpot games. Are you wondering if Megabucks is currently over $15 million? Find out by calling (888)448-2946, or visit www.IGT.com on the web.
[More optimal strategies for slots including comprehensive strategies for advanced play can be found in The Smarter Bet Guide to Slots and Video Poker.]