Smarter Bet Guide to Slots and Video Poker
by Basil Nestor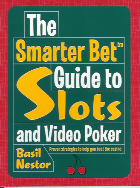 A pocket-sized book that provides a clear-cut explanation of payback comparisons, progressive jackpots and how to evaluate them, video poker strategy tables, and other mathematically derived techniques to lower the casino advantage.
Find Loose Slots... Play Online!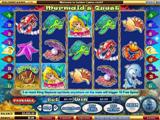 Roxy Palace has some of the loosest slots on the web. Their selection is huge and with less overhead, employee costs and taxes than your typical brick and mortar casino, they can afford to give back a bigger percentages of bets back to the customer. If you're looking for loose slots, play online!
Denomination is one of the biggest indicators of how a slot machine will pay. Lower-denomination games tend to be tighter than higher-denomination games.
The loosest slots are placed in highly visible

Basil Nestor is the author of the new Playboy Complete Guide to Casino Gambling. This wonderful book teaches players how to avoid sucker bets and win more when playing gambling games. He is also the author of The Smarter Bet Guide series for video poker, slots, craps, and many other books about gambling. Basil's website is www.smarterbet.com areas near the center of a slot layout. But visibility does not trump denomination. Nickel and penny machines tend to be tight wherever they are placed, even in areas with high visibility.
Tight machines are usually found at the edges of the slot layout in corners and other low-visibility areas. These are places where people will play when the casino is crowded.
Machines tend to be tight near table games, show lines, check-in lines, and restaurant waiting areas. The tightest slots can be found in airports, convenience stores, and other non-casino venues.
Slots are looser in jurisdictions where many casinos compete for customers. The games also tend to be looser in older properties, and casinos that cater to locals.
Slot paybacks for most casinos in North America are published monthly in the magazines Casino Player and Strictly Slots.
The purpose of optimal strategy and money management is to get you off tight machines, and off machines that are bleeding your dry with small wins and a high hit frequency.