The Unofficial Guide to Casino Gambling
by Basil Nestor

Basil Nestor incorporates decades of gambling knowledge to give the reader insight into probability, common gambling mistakes, and winning strategies in his popular book, The Unofficial Guide to Casino Gambling. Covering all the bases of casino gambling including machine games (slots and video poker), table games (blackjack, roulette, craps, baccarat, poker), and waiting games (keno and sports betting) the book also has sections on how to get casino comps, gambling systems, a history of gambling in the US, and much more.
Play Inca Gold Slots at Roxy Palace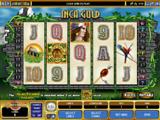 Inca Gold is a mysterious slot that is now available at Roxy Palace. The slot features a stylish symbol set revolving around the world of the Inca civilization, including pyramids, totems, and amulets. Unlock the secrets of the Incas with Inca Gold Video Slot!
Q I often see other people win big jackpots when they're playing slots, but not me. Am I doing something wrong? How can I find slots that will let me win?
A Keep in mind that winning a jackpot doesn't

Basil Nestor is the author of the new Playboy Complete Guide to Casino Gambling. This wonderful book teaches players how to avoid sucker bets and win more when playing gambling games. He is also the author of The Smarter Bet Guide series for video poker, slots, craps, and many other books about gambling. Basil's website is www.smarterbet.com
necessarily make someone a net winner. How much did that person lose before hitting the big one? Also remember that nearly all slot games have a "negative-expectation" for players. In other words, you can win today, win tomorrow, and win five times next week, but the casino still has an advantage. If you continue to play, the machines will eventually take it all back. That's how casinos earn a profit.
Still, there are strategies to make slots less stingy. For example, you can play higher-denomination games. Quarter slots are typically looser than nickel slots. Dollars are looser than quarters. Five-dollar games are looser than dollars, and so on.
The exact location of a machine and the size of the top jackpot also play a role in payouts. Specifically, progressive slots tend to be less generous than non-progressive games. Games on the Las Vegas Strip are harder to beat than games in downtown Las Vegas (more on this below).
And then there is luck to consider. Let's say there is a row of ten identical slot machines, and you are playing one of the machines. Nine other players are spinning right along with you. What is the probability that you'll be first to hit the top prize? Of course, the answer is 1 in 10 (or 10%).
But generally, how many other players will smack the top prize before you do? In most cases (53% of the time), at least six other players will hit before you hit. And here's the really tough part; 35% of the time there will be ten jackpots hit before you hit a jackpot. In other words, one or more players may hit twice before you hit once.
On the flip side, you have a 65% chance of bagging the top prize at least once in ten jackpots (in a universe of ten machines). So the secret to getting the most out of the game is to have staying power. You must make your bankroll last longer and play the loosest machines.