WAUKEGAN, Ill - WMS Gaming Inc., a wholly owned subsidiary of WMS Industries Inc. (NYSE:WMS), today announced that it has extended through 2016 its long-term license agreement with Hasbro, Inc. (NYSE: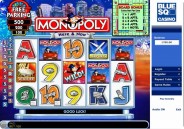 Monopoly and other Hasbro games will be added to WMS's branded slot machine line-up HAS) and Hasbro International, Inc. for exclusive worldwide rights to develop and produce slot machines and other gaming machines featuring the MONOPOLY brand.
In addition, WMS and Hasbro have expanded the scope of their relationship with WMS securing exclusive worldwide rights to develop and produce gaming machines based on such classic and enduring Hasbro board game brands as BATTLESHIP® and CLUE® (or CLUEDO® as it is better known in international markets) among others.
"As the exclusive worldwide licensee of the MONOPOLY brand for gaming machines, our talented development teams and engineers have taken one of Hasbro's flagship brands, and by combining its name recognition and familiar icons with creative game content and innovative technologies, developed one of the industry's most successful series of participation gaming machines for use in licensed casinos," said Orrin J. Edidin, President of WMS Industries Inc.
"Since introducing our first MONOPOLY branded participation games in fiscal 1999, we have developed more than 60 approved MONOPOLY branded games, including twelve over the last two fiscal years. This extension of the MONOPOLY license agreement acknowledges our consistent development of great games based on this worldwide icon and secures access for our creative teams to one of the world's most enduring entertainment properties for many years to come that will benefit our casino customers, casino patrons, Hasbro and WMS," Edidin said.
Mark Blecher, Hasbro's SVP and General Manager of Digital Media and Gaming, said, "We are pleased to expand and extend the scope of our relationship with WMS, a recognized innovation leader in the gaming industry. WMS has proved itself time and again with its very innovative MONOPOLY gaming program and we are confident that they will continue to do an outstanding job in creating strong entertainment value in their area of expertise with additional Hasbro brands."
"In recent years, we have been impressed with Hasbro's success in extending the reach of their broad brand portfolio into a wide variety of platforms," said Edidin. "Our expanded agreement with Hasbro will allow our game developers to further diversify and expand our product offerings of well-recognized brands, and continue to build upon our demonstrated success at creating new games offering exciting player features and differentiated gaming experiences through our unique and innovative Community Gaming®, Transmissive Reels®, Adaptive Gaming® and Sensory Immersion Gaming platforms. This new agreement will provide our customers and casino players with access to new and innovative interpretations of great Hasbro brands."
"As adoption of networked gaming technology and applications gain momentum, we expect to leverage this broader base of highly recognizable, branded entertainment properties in new player appealing content, game features and functionality," Edidin said. "We have enjoyed a strong and mutually rewarding relationship with Hasbro and believe our expanded relationship will continue to generate solid returns for both companies."
WMS Gaming
Corporate Headquarters
800 South Northpoint Blvd.
Waukegan, IL 60085
Phone: 847 785-3000
Fax: 847 785-3058
Website: www.wmsgaming.com

WMS Gaming, also know as Williams, is a leading reel and video slot manufacturer. The company started out in the video lottery terminal (VLT) business in 1991. In 1997, the company premiered what would be, and still is, its most successful video slot machine to date, Reel 'em In¨∆. This multi-coin, multi-line game offered tons of bells and whistles for the slot player. The website provides graphics and details for many of its slots, including Monopoly, Clint Eastwood, Treasure, Quakers, Cool Cat Cash, and many others.