by Howard Stutz
Las Vegas Gaming Wire
LAS VEGAS, Nevada -- Resurgent slot machine maker WMS Industries recorded increases in both revenues and earnings in its third quarter despite the economic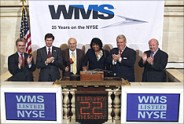 downturn that has zapped sales by gaming equipment rivals.
"Our operating execution is outpacing the challenging environment and is driven by the consistency of our high-return, high-earning games that are embraced by players and our casino customers worldwide," Brian Gamache, chairman and chief executive officer of the Waukegan, Ill.-based company said Tuesday in a statement.
WMS, which has sales offices in Las Vegas, had net income of $24.4 million, or 43 cents a share, in the quarter ended March 30, compared with net income of $18.8 million, or 32 cents per share, a year earlier.
Revenue rose 4.6 percent to $180.8 million from $172.8 million.
Slot machine sales totaled $114 million with the average selling price improving 18 percent to an average of $14,854 on the 6,431 new games shipped during the quarter. A year ago, the company shipped 7,793 slot machines, but at an average price of $12,579 per game.
Before the company announced earnings, gaming analysts believed WMS would have a positive quarter.
"We believe casino customers have loosened their purse strings somewhat since (January), based on conversations we've had with industry contacts and the casinos themselves," Morgan Joseph gaming analyst Justin Sebastiano told investors. "We believe WMS has a story to tell and would like to set the tone for the earnings season."
WMS shares rose 73 cents, or 2.79 percent, Tuesday to close at $26.88 on the New York Stock Exchange.
WMS Gaming
Corporate Headquarters
800 South Northpoint Blvd.
Waukegan, IL 60085
Phone: 847 785-3000
Fax: 847 785-3058
Website: www.wmsgaming.com

WMS Gaming, also know as Williams, is a leading reel and video slot manufacturer. The company started out in the video lottery terminal (VLT) business in 1991. In 1997, the company premiered what would be, and still is, its most successful video slot machine to date, Reel 'em In¨∆. This multi-coin, multi-line game offered tons of bells and whistles for the slot player. The website provides graphics and details for many of its slots, including Monopoly, Clint Eastwood, Treasure, Quakers, Cool Cat Cash, and many others.