FRIANT, California -- It's not just the Oscars where the stars came out to shine today, Central California's Table Mountain Casino had their own star today, the winner of The World Poker Tour Jackpot,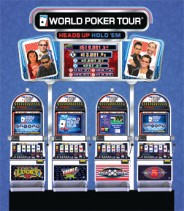 World Poker Tour Mystery Progressives Developed by IGT winning the largest cash slot machine jackpot ever paid out at Table Mountain Casino and one of the largest in California! This lucky player won $2,883,403.62.
This Table Mountain Casino guest was quietly playing his favorite penny machine, the World Poker Tour progressive slot, at his favorite local casino, Table Mountain Casino, when he realized his spin was the lucky one that paid him this life-changing jackpot! Overcome with excitement, all those on the casino floor celebrated with the lucky winner as word spread that he had won this mega progressive jackpot. The jackpot on this World Poker Tour progressive penny machine is linked to a network of other slot machines. Each time a coin is played in a linked machine, the jackpot accumulates and this lucky player was the winner of all those coins, for a total cash jackpot of $2,883,403.62.
John Mayewski, President and CEO of Table Mountain Casino, offered congratulations to the winner on behalf of all those at Table Mountain, "We are proud, pleased and certainly excited for our Guest to have been the lucky winner of this life-altering jackpot." He continued, "We strive to provide all of our guests with the ultimate gaming experience and this lucky gentleman is a shining example of all we have to offer at Table Mountain Casino."
Once the winner realized this was definitely reality, and not a dream, he began making plans for some of his winnings. First on his list was making sure that his mom has some new furniture! Also included on his shopping list were substantial yet sensible items for other family members.
Table Mountain Casino, best known for the Central Valley's only MEGA MOUNTAIN JACKPOTS as well as their selection of top name headliner entertainers, is located only 15 minutes north of Fresno, California. Table Mountain Casino carries the distinction of being voted the BEST LOCAL CASINO

Table Mountain Casino
8184 Table Mountain Road
Friant, CA 93626
Phone: (559) 822-7777
Website: www.tmcasino.com

Table Mountain Casino has hundreds of Vegas-style slot machines and classic table games. The casino also has new card games like Let it Ride, Three Card Poker and Spanish 21.