FRIANT, Calif. – As reported by the Associated Press: "A man who claims he hit a $737,203 jackpot on a nickel slot machine has hired an attorney after the club claimed the big win was a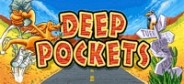 Deep Pockets wasn't so deep. . . huge mistake.
"Sornpaserd Unkeowannulack, 31, was playing the nickel slots at the Table Mountain Casino on Friday, when the 'Deep Pockets' machine announced he hit the jackpot. But when Unkeowannulack began celebrating, officials at the Indian gaming club said the machine was broken and he wasn't eligible for any prize.
"'They immediately said there was a malfunction,' said Unkeowannulack, a self-described professional gambler who lives in Clovis.
"Unkeowannulack took a picture of the machine with his cell phone, and his friend called attorney Scott Kinney.
"…Table Mountain Casino Chief Executive Officer John Mayewski said there was no winning combination of symbols on the screen signifying a jackpot. He also said the maximum prize for this particular Deep Pockets machine was $2,500. The maximum slot progressive prize for the entire group of machines where Unkeowannulack was playing was $10,000 or a motorcycle.
"…'It's like going to an ATM where the maximum withdrawal is $300 and having the machine spit out $30,000,' said Dan Casas, Table Mountain's tribal attorney. 'Is that money really yours?'
Table Mountain Casino
8184 Table Mountain Road
Friant, CA 93626
Phone: (559) 822-7777
Website: www.tmcasino.com

Table Mountain Casino has hundreds of Vegas-style slot machines and classic table games. The casino also has new card games like Let it Ride, Three Card Poker and Spanish 21.