ATLANTIC CITY, New Jersey -- As reported by the Press of Atlantic City: "She's mad as hell and is telling the world's largest casino company that it had better fork over her money.
"It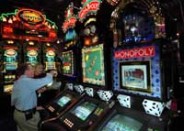 has been 17 months since 78-year-old Angela Domino hit what she thought was an $86,000 jackpot while playing a 5-cent progressive slot machine at Harrah's Resort.
"However, Harrah's paid her only $20,000 Wednesday in a long-running dispute over how much the jackpot actually was when Domino's machine dealt her a winning combination on a bet of $2.25.
"...On May 3, 2007, Domino's bet landed on a winning combination of four aces and a joker.
"...Then her elation disintegrated into disappointment when she was told that she had actually won $20,000 because another gambler at Trump Marina Hotel Casino had scored the $86,000 prize three minutes earlier while playing the same system of Spin Poker progressive slot machines.
"... When a jackpot is won, the machines then reset to the minimum jackpot. On the Spin Poker machines, the minimum jackpot was $20,000.
"...In Domino's case, the slot machine manufacturer claimed that if her machine showed an $86,000 jackpot when she won, it was simply a mistake, according to her attorney, John M. Donnelly.
"...Domino said she considers the $20,000 merely a down payment on the $86,000. She vowed to keep fighting for the full amount she believes she won..."