A Huge Collection of Loose Slots!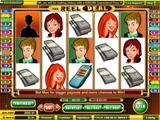 Online casino slots are loose. Why? Because with the lower overhead, no slot employees to pay, and lower taxes, they can afford to pay more back to their customers. Roxy Palace offers a huge range of casino slots for you to play for fun or for real money prizes. From easy to play 3-reel games and fruit slot machines, all the way through to popular video slots, progressives slots and brand new releases from Microgaming, every game provides a high level of quality.
LAS VEGAS, Nevada -- As reported by the Las Vegas Sun: "Pong, the game that turned pinball wizards into video-game junkies in the '70s, is poised to make a comeback in casinos.
"This time,


it could help turn the video-game generation on to slot machines.
"Las Vegas-based Bally Technologies is seeking approval for a Pong slot machine where a player's video skill would help determine the payout.
"'Ever since we showed it a couple of years ago, there's been a great deal of interest," said David Schultz, director of video games for Bally, which has show n the game at trade shows.
"Pong and the twist of a payout based on player s' skills were debated last week by the state Gaming Control Board. The panel said slot machines must have an element of randomness in their base game but noted that Pong's skill element comes into play only in the bonus round - something not covered by regulations. So, the three-member panel recommended approval and sent Pong to the Nevada Gaming Commission, which has to sign off on the concept before it could be played in a casino.
Bally Technologies
6601 South Bermuda Road
Las Vegas, NV 89119
Phone: (702) 584-7700
Toll Free Phone: 1-877-GO BALLY
Email:
sales@ballytech.com
Website: www.ballytech.com