The Joy of Six Slot simulates craps action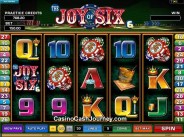 Microgaming's video slot release The Joy of Six allows players the chance to experience the excitement of the enthralling game of craps. Based in a casino environment, the five-reel, 30-payline slot lets players throw the dice in a vibrant world of vivid graphics, craps animations and distinctive sound effects. The large variety of features within the game gives players many opportunities to profit from an enjoyable experience.
Rumbling onto casino floors is one of the biggest, most sought-after brands in the gaming industry: NASCAR. This new title from Bally Technologies takes everything racing fans love about the sport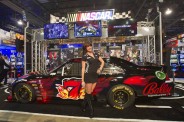 NASCAR Slot Machine
and puts it into a one-of-a-kind gaming experience. The lineup is a who's-who of current racing royalty -- Clint Bowyer, Dale Earnhardt, Jr., Jeff Gordon, Kevin Harvick, and Jimmie Johnson. Not only can players theme the slot based on their favorite driver, but they'll also enjoy audio and video featuring these stars of the oval.
NASCAR® is a registered trademark of the National Association for Stock Car Auto Racing, Inc.
©2012 Motorsports Licensing Company, LLC. All trademarks shown are used with the permission of their respective owners
Bally Technologies
6601 South Bermuda Road
Las Vegas, NV 89119
Phone: (702) 584-7700
Toll Free Phone: 1-877-GO BALLY
Email:
sales@ballytech.com
Website: www.ballytech.com