By John Grochowski
Each year at Global Gaming Expo in Las Vegas, I get to see the best of what slot machine manufacturers have to offer: the bonus events. Games are set up so potential buyers and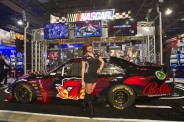 NASCAR slot display at Global Gaming Expo - photo by Las Vegas Sun
inquiring columnists can see the most entertaining bits without spending time spinning the reels. It doesn't exactly mirror the every-day slot experience, but it's a fun way to preview a whole lot of games in a short time.
Bally Technologies showed a couple of licensed-theme games that will have players savoring the bonuses. Pawn Stars, based on the History Channel reality TV hit and featuring video of the stars, has multiple bonus events, including a wheel spin that shows just what event you're going to play.

I was taken to Rick's Bonus, where it was time to negotiate a price. The player chooses an item to sell, touching one of several on the screen. I was pitching my old bicycle, and Rick was making offers. Should I accept, or turn it down? After some give and take, Rick made his final offer, and offered to call in an expert.
Should I take the money, or take a chance and call in the expert, who might award a bigger bonus? I called for the expert, who informed us my classic bike was a phony. There went my bonus.
It was fun to play, and so was NASCAR. It features images of cars and drivers — referring to both by the numbers, something NASCAR fans will relate to. With any of the numbered cars, you can touch the screen to get a photo and bio of the driver. And at bonus time, you're in the driver's seat, trying to accelerate and pass other drivers to collect a bigger prize. Regardless of whether you're a NASCAR fan, you'll feel the need for speed.
Spielo International always has some fun takes on the slots, and I laughed my way through Plants vs. Zombies. There's a three-level progressive jackpot, and a bonus event that lines up plants at one end of the graveyard, and zombies at the other. Can the zombies make it past the plants? It depends on which defenses come up randomly for the given round.
And speaking of fun on slots, I laughed out loud during Aruze Gaming's Knight of La Mancha. Don Quixote went tilting at windmills … and the windmill crumpled to the ground, stones, mortar and all. Sancho Panza jumped in triumph. Is the windmill supposed to lose?
John Grochowski is a local freelance writer. Look for him on Facebook (http://tinyurl.com/7lzdt44); Twitter (@GrochowskiJ) and at casinoanswerman.com.
Bally Technologies
6601 South Bermuda Road
Las Vegas, NV 89119
Phone: (702) 584-7700
Toll Free Phone: 1-877-GO BALLY
Email:
sales@ballytech.com
Website: www.ballytech.com