VALLEY CENTER, Calif. — As reported by the Reno Gazette Journal: "A 76-year-old Navy veteran turned pennies into riches, hitting a $3.2 million jackpot on penny slot machines at an Indian casino.
"Robert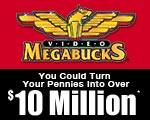 Penny Megabucks hits big in California.
Wilkie, Jr., of San Diego, scored the payout Monday at the Casino Pauma, in northern San Diego County.
Wilkie was playing a "Star Wars"
progressive slot machine
, which pools play from similar machines nationwide to generate the big jackpot.
The jackpot was the biggest ever for penny slots in California, said a spokeswoman for International Game Technology, which provides most slot machines to Indian casinos in the state.
Penny slots are usually played for more than a penny because machines allow for multiple bets on each spin.
International Game Technology (IGT)
Corporate Headquarters
9295 Prototype Drive
Reno, NV 89521-8986
The leader in slot machine manufacture, IGT produces hit after hit including popular favorites Megabucks, Wheel of Fortune, Double Diamonds, to the latest innovations. The website features details on the slots, video slots and other products that IGT is famous for. There's also a Gamefinder function which allows you to search for the locations of your favorite games. Financial and technical information for investors and slot directors is also included.
Casino Pauma
777 Pauma Reservation Road
PO Box 1067
Pauma Valley, CA 92061
Phone: (760) 742-2177
Toll Free Phone: (877) 687-2862
Fax: (760) 742-2438
Website: www.casinopauma.com

Nestled in a citrus grove, in the heart of Pauma Valley, Casino Pauma features 24 hours dining, live entertainment and 24 hour gaming. Casino Pauma's 65,000 square foot tropically-themed gaming complex offers over 35,000 square feet of casino gaming including 1,050 slots and twenty table games.