by Howard Stutz
Las Vegas Gaming Wire
LAS VEGAS, Nevada –- Investors are looking toward the future and not the past when it concerns International Game Technology.
The Reno-based slot machine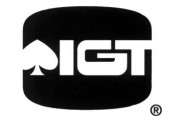 giant said Thursday its profits declined 39 percent in the quarter that ended June 30. Revenues fell 23 percent and the number of slot machines shipped to casinos decreased 31 percent.
But the news didn't deter investors and analysts.
Shares of IGT, traded on the New York Stock Exchange, soared more than 14 percent in initial trading Thursday soon after the company released earnings. IGT closed at $19.76, up $2.27, or 12.98 percent.
Investors were more focused on news earlier this month that the governors of Ohio and Illinois had approved slot machine expansion plans. Meanwhile other states, including Pennsylvania, could be looking at slot machine growth measures as well.
IGT said its net income in the third quarter was $66.3 million, or 22 cents a share, compared with $108.3 million, or 35 cents per share, in the same quarter last year. The results surpassed the 18 cents-per-share estimate of analysts polled by Thomson Reuters.
IGT said its revenues in the quarter were $522.1 million, a 23 percent drop compared with $677.4 million in the same quarter in 2008.
"Overall, results were above our expectations on product sales," Susquehanna gaming analyst Robert LaFleur told investors. "Product sales revenue declined ... but was still well above our pretty low expectations for the quarter."
MorganJoseph gaming analyst Justin Sebastiano told investors that IGT was helped by shipping 1,700 new slot machines to a soon-to-open Indian casino in Michigan.
Quarterly results aside, analysts were quick to point out that the company has made strides in several areas. Credit was given to new Chief Executive Officer Patti Hart, who took over IGT in late March.
"The company's cost savings are showing an immediate impact, and product sales strength is especially notable given replacement sales have been an Achilles heel for IGT and the sector," Goldman Sachs gaming analyst Steven Kent told investors.
Hart said IGT made progress in several areas despite a challenging market. The company completed refinancing efforts, filled key executive positions and said positive feedback had been received from casino operators on its new operating systems and products.
IGT has reduced costs by more than $100 million over the past eight months, including job cuts. A few weeks ago, IGT said it laid off 55 workers at its Reno headquarters, about one-third of the 161 layoffs it previously announced for its domestic and international work force.
In November, IGT cut 300 jobs in Reno and 500 positions globally. In January IGT eliminated some 200 positions, mostly in Reno.
"Although we continue to face an environment of suppressed demand, we were pleased with continued stability in our gaming operations yields and an uptick in unit sales from the second quarter," Hart said in a statement.
JPMorgan gaming analyst Joe Greff predicted investors would react positively to IGT's results, "especially given recently reduced expectations that this was going to be a ho-hum quarter."
On a conference call with analysts, Hart said IGT was seeing certain trends reverse. She said the company shipped 2,300 replacement slot machines to North American casinos between April and June, 28 percent more than were shipped between January and March.
"Last quarter we conveyed to you our beliefs that our business had reached a trough in the midst of very difficult markets," Hart said. "Today, I would like to reiterate this view."
Hart said casino operators in gaming markets where customer trends are on an upswing have realized older slot machines need to be replaced.
Union Gaming Group principal Bill Lerner said IGT's results "suggest stability in the gaming equipment sector."
International Game Technology (IGT)
Corporate Headquarters
9295 Prototype Drive
Reno, NV 89521-8986
The leader in slot machine manufacture, IGT produces hit after hit including popular favorites Megabucks, Wheel of Fortune, Double Diamonds, to the latest innovations. The website features details on the slots, video slots and other products that IGT is famous for. There's also a Gamefinder function which allows you to search for the locations of your favorite games. Financial and technical information for investors and slot directors is also included.