DUBLIN, Ireland -- CryptoLogic , a leading software developer to the global Internet gaming market, has made another lucky online casino slot player an instant millionaire. On May 3 at 12:35 a.m. GMT,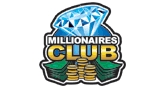 Millionaires Club, one of the internet's most popular online progressive slots available exclusively to CryptoLogic licensees, awarded more than $1.3 million to a player at LittlewoodsCasino.com.
"Millionaires Club is a great example of CryptoLogic's leadership through innovation — and of our commitment to giving customers a truly exceptional experience," said Brian Hadfield, CryptoLogic's President and CEO. "As we welcome another instant millionaire to the club, we also celebrate a game that's earned global popularity — one that keeps players coming back again and again."
Millionaires Club has made more instant millionaires in the last year than any other online casino game in history. The game has paid out more than $15 million in jackpot wins in the past year alone, with four players winning more than $1 million. Just last spring, CryptoLogic awarded the largest jackpot win in the history of online gaming — more than $8 million to a player from InterCasino.com. Just two weeks later, a player in the UK at LittlewoodsCasino.com won more than $4 million, the second highest jackpot in online history. The last big win was in December 2007, when a player won $2.2 million at WilliamHillCasino.com.
In addition to Millionaires Club, CryptoLogic's award-winning casino lineup includes some of the industry's most popular and visually-stunning online jackpot slot games, including the Frightmare slot series, Rags to Riches and the Rapid Fire jackpot series, the slots that trigger their jackpots more frequently than any other online. All CryptoLogic jackpot games feature dazzling animation, amazing bonus rounds and impressive prizes that can be won in pounds sterling, Euros or dollars. They can be played at some of the world's top online gaming sites, including InterCasino, William Hill, Littlewoods, Playboy Casino, WPT and others.
"This latest jackpot win is another example of CryptoLogic's ability to deliver big prizes, big experiences and big results for our customers," added Justin Thouin, CryptoLogic's Vice President, Product Management and Business Development. "That's one reason CryptoLogic has earned Gambling Online Magazine's Top Casino Software Award — based on the votes of players — for three years running."
CryptoLogic
55 St. Clair Avenue West
3rd Floor
Toronto, ON M4V 2Y7
Canada
Phone: (416) 545-1455
Fax: (416) 545-1454
Website: www.cryptologic.com

CryptoLogic is a leading software developer in the rapidly expanding Internet gaming industry. Individuals registered in 240 nations and territories worldwide use their software.