LAS VEGAS, Nevada -- Everyone seems to know "Hollywood Dave." The spikey-haired fast-talking actor-poker player-blackjack guru has been a fixture inside cardrooms in Los Angeles and Las Vegas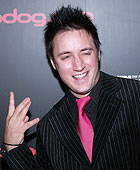 'Hollywood Dan' Stann for the past five years. If you haven't seen the goggle-wearing cardshark, you most certainly have heard him. Hollywood Dave has parlayed his outrageous personality in a mini-cult and has even appeared in several television shows, including "King of Vegas."'
Fantasy became reality today as "Hollywood Dave" became the King of Vegas, at least until the next tournament is dealt. "Hollywood" is actually 35-year-old Dave Stann, the winner of the most recent World Series of Poker Circuit tournament held at Ceasars Palace Las Vegas. Stann, who is originally from Cleveland, topped one of the largest fields at this year's Caesars series.
The $300 buy-in two-day No-Limit Hold'em tournament attracted 378 entries, which generated $109,998 in prize money. The top 35 finishers collected payouts. All the action took place inside Caesars Palace Las Vegas poker tournament room.
After Scott Conrad busted out in tenth place, the top nine finishers were as follows:
9th Place – An hour passed before the first player was eliminated. That came when short-stacked John Chadwick went out in ninth place. The car mechanic from Wyoming ended up making about $125 an hour for his time spent playing in this tournament, about the same rate one pays for labor per hour at the local car dealership. So, his time in this event (cashing for $2,475) was a wash.
8th Place – Lou Ann Merwick says that her son is her poker coach. Joel Merwick cashed in the 2004 WSOP Main Event, which enticed mommy to take up the game. The saleslady from Nebraska went out in eighth place, worth $3,300 in prize money. Merwick (the mom) has certainly played some great tournament poker in the last year. She cashed in two major events and also played in some WSOP Circuit main events after winning her way in through satellites.
7th Place – Pascal Choquet came to Las Vegas all the way from Belgium to play in his first WSOP Circuit event. Hoping to follow in the footsteps of some recent international champions who came from Mexico and Russia, Choquet ran low on chips and ended up busting out in seventh place. The former physicist who now plays poker full time received $4,125.
6th Place –Gary R. Martin, a Harley-Davidson riding poker player from Yakima, WA finished in sixth place. Martin went card dead late in the tournament and ended up with $5,225. He is 48 years old and owns a cleaning service company. Martin has previously done well at local tournaments in Washington State. This was his first appearance at the final table of a WSOP Circuit event (Note: He is not to be confused with Gary Martin, who has many tournament cashes, including events at the WSOP in the 1990s).
5th Place – Richard Cory Cresiski ended up finishing in fifth place. The software consultant from Las Vegas arrived at the final table ranked second in chips. But Cresiski had a disappointing run late in the tournament and collected $6,600 in prize money.
4th Place – Steven "Stevie G" McKoy was left as the lowest stack of four players. He lasted for awhile but ultimately went out in fourth place when he moved all-in and tried to steal a round of blinds and antes with K-8. Eskimo Clark called with pocket queens, which won the hand. The student who is currently attending the University of Alabama, rolled out red-faced in fourth place, worth $8,250. This marked McKoy's first WSOP Circuit final table appearance.
3rd Place – "Eskimo" Clark has long been regarded as poker's cross between Fat Bastard and Tommy Chong. The oddball poker pro originally from New Orleans has innumerable cashes and final table appearance in his spellbinding 21-year poker career, including three WSOP gold bracelets which all mysteriously ended up in pawn shops. Clark had the chip lead at one point but things went really bad when play became three-handed. On what turned out to be his final hand, he tried to steal holding J-9 and got called by Jack Andelman in the big blind with pocket kings. Clark lost the hand and accepted a third-place payout totaling $10,175.
2nd Place – When heads-up play began, "Hollywood Dave" Stann enjoyed a slim chip lead over Jack Andelman. A financial settlement was reached, the terms of which were not disclosed. Stann was declared the winner. As runner up, Jack Andelman officially collected a payout totaling $16,225. The resident of Marietta, GA had cashed previously at two tournaments held in Tunica, MS.
1st Place – "Hollywood Dave" Stann was thrilled to win his third major poker tournament and first WSOP gold ring. Previously, Stann won tournaments at the Aruba Classic and Winnin O' the Green. His official payout for first place was $26,398.
Stann has actually earned more money playing blackjack than poker. In fact, he has over $1 million in blackjack winnings, won in various major tournaments – a few of which were aired on television. He blogs at his website which is: www.hollywooddave.com
Following his victory, Stann explained his occasionally eccentric behavior in a manner that was both compelling and commendable. "I like to have fun while at the table," Stann said. "That way, if I don't end up winning the tournament, I can still look back and say that I had a good time. And if I do manage to finish first, that's great too. So, I win either way."
With 18 of 22 events now completed at Caesars Palace Las Vegas, the tournament has attracted more than 3,000 total entries and has awarded nearly $3 million in total prize money. The WSOP Circuit continues at Caesars through April 30th.
Caesars Palace
3570 Las Vegas Boulevard
Las Vegas, NV
Toll Free Phone: (877) 427-7243
Website: www.caesars.com/caesars/lasvegas

Caesars Palace is one of the world's best known resort-casinos. At the heart of the Las Vegas Strip, Caesars Palace features more than 3,300 hotel guest rooms and suites, 26 diverse restaurants and cafes, 4.5-acre Garden of the Gods pools and gardens, and world-class health spa and salon services. Its 4,100-seat Colosseum spotlights world-class entertainers such as Celine Dion, Elton John and Jerry Seinfeld, and sits just steps away from celebrity chef restaurants and The Forum Shops. The casino offers a wide variety of slot machines and is well-known for its high quality table game play.