by Arnold M. Knightly
Las Vegas Gaming Wire
LAS VEGAS, Nevada –- Caesars Palace opened 110,000 square feet of new convention and meeting space Monday in the middle of an economic downturn that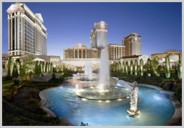 Caesars Palace in Las Vegas has cut local convention attendance to its lowest levels in years.
The convention area was part of a $1 billion expansion project of Caesars Palace that boosts the property's total meeting space to 320,000 square feet.
Harrah's Entertainment in January announced it was postponing construction of the planned 660-room Octavius Tower, but work would continue on the convention area.
Bill Lerner, a principal with gaming research firm Union Gaming Group, explained that even if the new meeting space sits empty, the cost of operating that area would not be as expensive as staffing and operating an unfilled hotel tower.
"You get to a point where you just want to open it despite weakness in the environment," Lerner said. "They were so far along they might as well benefit to some degree from actually opening the thing and capturing some volume."
The new convention area, however, is already expecting its first group of exhibitors.
West Palm Beach, Fla.-based United Franchise Group expects to draw 2,000 exhibitors, staff and attendees to its convention this week in the new facility.
"We knew we wanted to be at Caesars, ultimately," said Tipton Shonkwiler, brand director for Plan Ahead Events, the franchise group affiliate that organized the gathering. "To find that they had the new space, we felt like it was the place to be."
The new space is the largest in Las Vegas for Harrah's Entertainment. The company's other properties range in size from 160,000 square feet at the Rio, where the World Series of Poker is held, to 25,000 square feet at the Flamingo Las Vegas.
Caesars Palace officials expect the new space will allow it to compete with similarly sized high-end space at the Bellagio, Encore and Wynn Las Vegas.
The new meeting space is opening at a time when local convention attendance is down by double digits from last year.
Attendance dropped 33 percent in May with 565 fewer conventions and meetings held than last May, according to the Las Vegas Convention and Visitors Authority.
For 2009, attendance is down 28.6 percent with 2,441 fewer meetings held this year than last.
Officials for Caesars Palace and Harrah's Entertainment weren't available Monday for interviews.
Lerner said the additional space also will help the city host more conventions once the economy recovers.
"This is still a city that hasn't had enough large convention square footage to accommodate the demand during very specific times of the year," Lerner said. "So to the extent that Caesars can capitalize by developing formerly under-utilized real estate, it will make more sense in the future."
Caesars Palace
3570 Las Vegas Boulevard
Las Vegas, NV
Toll Free Phone: (877) 427-7243
Website: www.caesars.com/caesars/lasvegas

Caesars Palace is one of the world's best known resort-casinos. At the heart of the Las Vegas Strip, Caesars Palace features more than 3,300 hotel guest rooms and suites, 26 diverse restaurants and cafes, 4.5-acre Garden of the Gods pools and gardens, and world-class health spa and salon services. Its 4,100-seat Colosseum spotlights world-class entertainers such as Celine Dion, Elton John and Jerry Seinfeld, and sits just steps away from celebrity chef restaurants and The Forum Shops. The casino offers a wide variety of slot machines and is well-known for its high quality table game play.