LOS ANGELES, California -- When players at the latest World Series of Poker Circuit championship event finally reached the prize money, the poker world started buzzing with several questions:
1. Would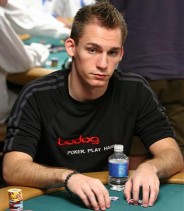 Justin Bonomo earned his first career gold ring at WSOP circuit event this prove to be Michael "the Grinder" Mizrachi's long-anticipated WSOP breakthrough victory?
2. Could tournament newcomer Dwyte Pilgrim, who is the "unofficial" WSOP Circuit Player of the Year, win his third gold ring and back-to-back Main Event championship within a two-month period?
3. Would Men "the Master" Nguyen win his fifth gold ring, the most of any player in the five-year history of the WSOP Circuits?
4. Was this to be Matt Brady's time in the winner's circle, after winning more than $2 million in tournaments and making other WSOP Circuit final table appearances?
5. Could former WSOP gold bracelet winner Matt Graham add a gold ring to his jewelry collection?
The answer to each of these questions was a resounding "no!" The final word was spoken loudly and clearly by Justin Bonomo, who spoiled several potential after-parties and ended up with his own cause for celebration. In fact, one could argue that Bonomo deserved the victory more than anyone else, since he made it to the championship final table at Caesars Palace Las Vegas three consecutive years, an astounding achievement given the talent level and size of fields which play in the biggest poker events.
Bonomo is a 23-year-old poker pro from Las Vegas. He finished fifth in the inaugural Caesars Poker Classic in 2007. He finished fourth in last year's WSOP Circuit championship. And now, Bonomo has achieved his first victory, worth $227,692 in prize money. He also earned his first career gold ring, the ultimate token of achievement for winning a WSOP Circuit tournament.
The win proved to be a fiercely-fought battle, with numerous challenges along the way for the new champion. Bonomo's biggest obstacle was Michael "the Grinder" Mizrachi, the widely-accomplished tournament pro from Florida. In fact, heads-up play actually lasted longer than the entire span during which the first seven players at the final table were eliminated. Clocking in at eight hours, the final duel lasted more than four hours, during which more than 100 hands were dealt out. Bonomo and Mizrachi were both physically and mentally drained following the confrontation, which according to most observers could have gone either way.
"It felt like I was playing him for ages," Bonomo said afterward. "Mizrachi played great. It was a brutal match."
Incredibly, this marked Bonomo's first recorded major tournament victory after many near misses. In addition to final tabling the last two Caesars championships, Bonomo also finished as the runner up in the Mixed Hold'em event at last year's WSOP. The year before, he had a fourth place finish at the WSOP.
This was the final event in a 22-tournament series which started back on May 11th. Caesars Palace Las Vegas was the ninth of ten WSOP Circuit stops during the current season, which ends next month. The combined 22 tournaments attracted nearly 4,000 players from more than 20 different nations and awarded over $4 million in total prize money. The $5,000 buy-in championship event attracted 187 entries generating $896,950 in prize money.
Action on day one started with several familiar faces, including former world champions Johnny Chan and Scotty Nguyen. Other former WSOP gold bracelet winners who entered included Erick Lindgren, Mark Seif, Kathy Liebert, David "the Dragon" Pham, Mike "Little Man" Sica, Steve Billirakis, Robert Cheung, Thor Hansen, Matt Graham, and Men 'the Master" Nguyen. There were another two dozen or so former WSOP Circuit gold ring winners who played.
Only the top 18 finishers collected prize money. Final table players were eliminated in the following order:
9th Place – The hottest poker market in the world right now is arguably in Russia. Recent WSOP events have attracted several outstanding Russian players – including Max Katz who won Event #16 at this year's Caesars' series. Fellow countryman Evgeny Serebryakov ended up as the ninth-place finisher in the championship event. The 21-year-old poker pro from Moscow and member of the poker organization TeamExpektRussia ran very hot on day two and arrived in the money very close to the chip lead. But Serebryakov went card dead late and was the first player eliminated from the final table, collecting $24,666 in prize money on his first American visit.
8th Place – Nashaat "Tony" Antonious is a common face at many major poker tournaments around the country. He has finished in the money a number of times including at the WSOP, but has yet to win his first major victory. Antonious will have to wait a little longer for a gold ring, as he ended up as the eighth –place finisher at Caesars. The accountant from Florida added $29,151 to his poker bankroll.
7th Place – Jack Schanbacher ended up as the seventh-place finisher. The Pittsburgh-based poker player was one of four former gold ring winners who sat at the final table. Schanbacher won a WSOP Circuit event last December held at Harrah's Atlantic City. With his $35,870 payout in this event, Schanbacher now has more than $1 million in career tournament earnings.
6th Place – Many eyes were on the carefree Dwyte Pilgrim, who has captured the public's imagination as one of poker's hottest tournament players so far this year. Pilgrim, who won the last WSOP Circuit championship held at Harrah's Rincon (San Diego) and also won a gold ring in March at Caesars Atlantic City was going for a trifecta. Unfortunately, Pilgrim wasn't able to pose a serious challenge to the chip leaders after he started day three ranked second in chips. The Brooklyn-based poker pro who vows to play in many upcoming WSOP events this year and hopes to win his first gold bracelet suffered a bad run of cards later and came up short in his quest for gold ring number three. Pilgrim had to settle for sixth place, which paid $44,848.
5th Place – As final tables go, this one was a tough from top to bottom as they come. Matt Graham was one of two former WSOP gold bracelet winners at the final table. The winner of last year's Limit Hold'em Shootout (Event #53) is only 25-years-old but already has amassed nearly $800,000 in tournament earnings. Graham had chips early on day three but was short-stacked late and ended up going out in fifth place. Graham, a.k.a. "Mattg1983" collected $56,059.
4th Place – Jeremiah DeGreef has some personal history that makes everyone want to root for him. The disabled veteran and former Arabic language translator who served in the U.S. Army for three years won his first WSOP Circuit gold ring last week at Caesars. Demonstrating that was no fluke, DeGreef outlasted 184 other players in this tournament and ended up finishing fourth. DeGreef, a 27-year-old poker player from Salt Lake City, UT, received $71,756.
3rd Place – The combined tournament winnings of the top three finishers in this tournament was a whopping $16.3 million. It would be hard if not impossible to locate any final table of any tournament in the world with that level of previous earnings amongst the top three. In fact, no poker player has won more gold rings than Men "the Master" Nguyen, with four. However, Nguyen has not won on the Circuit in more than two years. He came close a few times recently, with two third place finishes in preliminary events held at Caesars. Once again in this event, Nguyen took third place – which would be considered a success by most poker players. But Nguyen was visibly disappointed with the result. To his credit, Nguyen never had many chips at any point during play at the final table. So his third-place showing was a testament to his patience and talent. The Vietnamese-born poker legend from Bell Gardens, CA received $91,937 in prize money.
2nd Place – When heads-up play began, Justin Bonomo enjoyed about a 5 to 4 chip advantage over Michael Mizrachi. Given the strong pedigree of both finalists, a fierce duel was expected. The two bona fide poker stars did not disappoint the huge crowd that assembled to witness the battle, most of whom stayed during the entire four hour match.
The rivals battled back and forth. Each time one player would take a 2 to 1 chip lead the other player would win a critical pot and swing the chips back in his favor. It was ping pong, a tug of war, and a chess match all rolled into one. For those who were watching, the match was especially poignant given how close both Bonomo and Mizrachi had come previously to winning WSOP-related events. While both players have won millions of dollars playing in tournaments, neither player up to this point has won a gold bracelet, or a gold ring. Bonomo came closest, but Mizrachi's nearly $7 million in career tournament winnings was as intimidating as any gold bracelet. The 28-year-old pro had just about everything except a WSOP gold bracelet or ring. The closest Mizrachi has come was a third-place finish at last year's WSOP. He also made it to the final table of the WSOP Circuit championship at Caesars Palace during the inaugural year in 2006, finishing fifth.
During the first hour of heads-up play, Bonomo slowly chipped away at his rival. But after Bonomo took a better than 2 to 1 lead, Mizrachi won a few big hands and seized the chip lead for the first time. Once the tables were reversed, Bonomo won a big pot and regained his advantage. Then, Mizrachi won a critical race and had the advantage. It would be a routine that would go on for multiple hours. Neither player was able to string together successive big pots which might have ended the duel until late in the night when the final hand of the tournament was dealt.
Bonomo had a better than 3 to 1 chip lead. He ended up making a higher diamond flush on the last hand (with the king of diamonds) to Mizrachi (who had the jack of diamonds). As runner up, Mizrachi collected a very respectable $143,512. Looking back Mizrachi could have won any one of a number of heads-up races and win his first gold ring. But it was not to be. Mizrachi will have to wait until next time, which for him will be the WSOP in Las Vegas.
1st Place – In addition to winning nearly a quarter million dollars in prize money plus his first gold ring, Justin Bonomo will also receive a seat into the WSOP Main Event, coming up in July.
"I can't ask for better friends than I have, who all supported me," Bonomo said afterward, referring to several well-wishers in the crowd. "Playing heads-up was really exhausting. Every hand I played (against Mizrachi) put me in a tough decision. That made it even more difficult. So, to win this event makes it all the more meaningful to me to have earned it this way."
This marked the fourth consecutive year Caesars has hosted a WSOP Circuit event. Bonomo joins Allen Cunningham (2008), Cory Carroll (2007) and John Spadavecchia (2006) as poker champions crowned at Caesars Palace Las Vegas.
Indeed, Caesars Palace Las Vegas has made history for more than 40 years. From daredevil Evel Knievel's bone-shattering 1967 motorcycle jump across the fountains to numerous heavyweight title prize fights over four decades, Caesars has been the backdrop for both sports excitement and human drama.
The famous resort and casino destination has also played an important role in poker history. During the 1980s and early 1990s, Caesars Palace Las Vegas was home to the second-largest poker tournament in the world, called the "Super Bowl of Poker." Since 2006, Caesars has played host to the World Series of Poker Circuit. The luxury $6 million dollar tournament facility has also hosted the Caesars Poker Classic held in the fall, and a number of nationally-televised poker events, including the NBC Heads-Up Championship, held every spring.
Coming up next, Caesars will be hosting the "2009 Summer Mega Stack Series." Forty mega satellites with lots of play will be held between May 28th and July 10th which will award seats into the $10,000 buy-in WSOP Main Event, which takes place at the Rio Las Vegas in July.

Caesars Palace
3570 Las Vegas Boulevard
Las Vegas, NV
Toll Free Phone: (877) 427-7243
Website: www.caesars.com/caesars/lasvegas

Caesars Palace is one of the world's best known resort-casinos. At the heart of the Las Vegas Strip, Caesars Palace features more than 3,300 hotel guest rooms and suites, 26 diverse restaurants and cafes, 4.5-acre Garden of the Gods pools and gardens, and world-class health spa and salon services. Its 4,100-seat Colosseum spotlights world-class entertainers such as Celine Dion, Elton John and Jerry Seinfeld, and sits just steps away from celebrity chef restaurants and The Forum Shops. The casino offers a wide variety of slot machines and is well-known for its high quality table game play.