Everest Poker, official sponsors of the WSOP, have hit their five year anniversary and are celebrating by offering players (you guessed it) five different promotions including:
· $500,000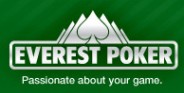 Guarantee Tournament with the 9 finalists playing in Las Vegas on the actual WSOP final table, where we will cover your flights and hotel too. Online qualifiers start in August.
· Refer 5 friends in July or August to Everest Poker and gain entry into an exclusive $5,000 freeroll
· If you play in the 5 Billionth hand you will win $500 for every player involved in the hand
· If you play in hand number 5,555,555,555 you will also win $500 for every player involved in the hand
· Earn 5 Summit Points a day, every day for one month & you will qualify for a $5,000 freeroll
· Qualification periods; 07/05-08/04 & 08/05-09/04
· Player will be able to miss one day maximum to be eligible
· July 5-August 4, $5,000 freeroll to be held on Thursday, August 6 at 18:00 GMT
· August 5-September 4, $5,000 freeroll to be held on Tuesday, September 8 at 18:00 GMT
The $500K tournament will use a steps system for qualification so you can buy-in for as little as $2 or buy-in to a direct entry tournament for $336 + $24. The online qualification will take place in August and September with the online finale on October 4th and the live finale in Las Vegas in November.

Everest Poker
Website: www.everestpoker.com

Everestpoker.com is dedicated to the international poker playing community with poker software fully localized in 11 different languages and customer support in 15 languages. Everest Poker is owned by Ultra Internet Media. Incorporated in 1997. UIM entertains users every day from over 200 countries around the world.