DUBLIN, Ireland - Boylepoker.com has produced two mega-winners in the last month as John O'Shea ("doesalrite") and Breandan Reaney ("quickelec") won a total of $124,950 on the online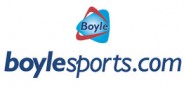 poker site.
Boylepoker player John O'Shea -- "doesalrite" -- who finished fifth in the $2,500 event at this year's World Series of Poker for a payday of $98,000, lifted $44,950 when he won event four at the European Championship of Online Poker and immediately followed up with a fifth place finish in event five.
In the same week Reaney picked up $80,000 for winning six consecutive $50 "Fort Knox" tournaments on Boylepoker.com. The Fort Knox promotion invites players to win six consecutive six-player $50+$9 Fort Knox sit 'n' go tournaments to win a minimum jackpot prize of $50,000.
The jackpot increases by $10,000 for every week it remains unclaimed. For a total outlay of just $354 dollars, Reaney claimed $80,000 as the jackpot had not been won for three weeks.
Paul Spillane, head of poker at Boylepoker, said, "These results show the quality of player on our site and we're delighted for them. John O'Shea is rapidly becoming a force to be reckoned with both online and in live poker while Brendan Reaney achieved a remarkable feat winning six sit 'n' go tournaments in a row we're very proud that both have chosen to play at Boylepoker.com."
Boylesports.com
Finnabair Industrial Park
Dundalk
Louth
Ireland
Boylesports is Ireland's largest independent bookmakers. Since the company was established in 1989 by John Boyle, we have been recognised for setting new standards of customer service in the industry in Ireland. Boylesports offers a wide variety of online gaming options from poker tournaments, slots, bingo, sports betting, skill games and lotteries.