DUBLIN, Ireland -- Boylepoker.com pro, Peter Murphy, is just over halfway through his Multiplier Challenge where he has 11 weeks from January 23 to turn $100 into $10,000 and is firing on all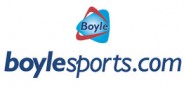 cylinders.
However, no-one expected the dramatic twist in the tail when fellow Boylepoker.com player Adrian McCarthy was inspired by Murphy's challenge, deposited $100, followed Murphy's lead, and after just 10 days had accumulated $135,000.
First McCarthy won six $20 sit 'n' go tournaments in a row on the Jackpot tables at Boylepoker.com and collected $35,000. He then went on to win a seat in the $2.5 million guaranteed tournament at the site and came sixth in the tournament pocketing another $100,000.
McCarthy wrote to Murphy at Boylepokerblog.com saying, "I was inspired by your performance over the past few weeks and decided it was possible for me to do the same. I spent the past three weeks reading and studying up as much as I could. After depositing €100 I had good fortune increasing it to €300 in a few days though cash and $10 six-seaters. Since I was getting on so well in the six-seaters I decided to go to the $20 Jackpot games. I won the six in a row at the first attempt taking down $35k. Anyway thanks for the inspiration, it got me to study hard and I've reaped the rewards very quickly!"
A few days later he wrote at Boylepokerblog.com, "Murph that challenge of yours is looking lame now! I won a seat in the $2,500,000 tourney and came out with $100,000 in sixth place! It should be $100 to $100,000 in 10 days!!! Life is good."
Murphy meanwhile has had a tougher ascent through the ranks but spun his $100 investment up to €2,909.72.
He is confident he is on track to complete the Multiplier Challenge, saying, "I have four and half weeks left but I am off to Cheltenham for the races this week, so by the time I get back I will have less than four weeks left to get to the $10k mark.
"I might start to grind $.50-$1 cash for a while and when (IF) I get back to over $3k then I can move up and play $1-$2 and maybe a few decent tourneys here and there and hopefully I should get there."
Fans of the challenge can keep up with Murphy's ongoing grind at www.boylepokerblog.com.
Boylesports.com
Finnabair Industrial Park
Dundalk
Louth
Ireland
Boylesports is Ireland's largest independent bookmakers. Since the company was established in 1989 by John Boyle, we have been recognised for setting new standards of customer service in the industry in Ireland. Boylesports offers a wide variety of online gaming options from poker tournaments, slots, bingo, sports betting, skill games and lotteries.