MANILA, Philippines -- AsianLogic, owners of the Asian Poker Tour, are delighted to announce a historic first for poker in Asia. The hotly anticipated Asian Poker Tour Macau Festival, taking place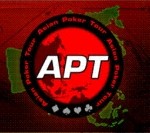 12-23 August 2009 at the Galaxy Starworld, will be featured in a ground-breaking Chinese language poker movie. Many believe the film will have a similar impact on poker in Asia as the 1998 Hollywood film Rounders did in the western world.
The movie is provisionally titled 'Poker King' and will be directed by famous Chinese language director Chan Hing-Kai and Janet Chun and, produced by Amy Chin and Chan Hing-Kai. It tells the story of two bitter poker rivals competing for world championship glory. The cast will be all-star, A list Chinese actors and pop stars with a cinema release across the region set for later this year. Actors with the coveted starring roles include Louis Koo, Sean Lau Ching –Wan, Stephy Tang, Cherrie In and Josie Ho.
There have been several famous gaming films in the region, most notably the 1989 Chinese language classic 'God of Gambler's' starring Chow-Yun-Fat which spawned dozens of spin-offs – but 'Poker King' is set to be the first release that focuses on poker.
Tom Hall, CEO of Asian Logic, owners of the Asian Poker Tour said: "This is a very exciting project and is sure to provoke even more excitement about The Asian Poker Macau Festival in August. Players across the region and throughout the world are encouraged to come to the Starworld and play at the Asian Poker Tour Macau – the movie crew will be needing lots of extras and even players to take on roles if they choose! Rounders, starring Matt Damon and Edward Norton, is always highlighted as a key catalyst for the growth of poker in the western world. 'Poker King' has the promise to deliver this and potentially much more. Gross revenue from poker in Macau is estimated to have risen by 400% in 2008 alone and continues to rise and with this blockbuster movie the game could become even more popular in a land where baccarat is king. Think of how many people have seen Rounders and at least quadruple it and you can only speculate at the kind of impact 'Poker King' could have on the game. We're delighted to be involved."
The Asian Poker Tour Macau is a hotbed for the world's top poker professionals and negotiations are ongoing about giving the Tour's sponsored ambassadors 'The Poker Pack' significant roles in the film. The Pack includes recent World Series of Poker bracelet winners JC Tran and Steve Sung, as well as Quinn Do, Nam Le, David 'Chino' Rheem and Kwang Soo Lee. Together, they are amongst the most feared players on the world circuit.
The Asian Poker Tour Macau Festival will run from August 12–23, 2009 at the Galaxy StarWorld Hotel and Casino in Macau. Last year, the event attracted some of the most famous names in the game. Poker legend Doyle Brunson was one of those that attended and said: "I thought Las Vegas was the gambling capital of the world but I was wrong, it feels like coming home." The Main Event was won by 20-year-old US hotshot Yevgeniy Timoshenko, who scooped US$500,000 after emerging triumphant from the star-studded field that featured players from over 40 countries. Timoshenko has gone on to become one of the hottest talents in the game after taking down the WPT Championship earlier this year.
This year's Asian Poker Tour Macau Festival will be bigger and better with 12 days of non-stop poker action and fun. The buy-in is set at US$4,300 (US$4000+$300). Aside from the Main Event, the Asian Poker Tour Macau Festival will feature the largest range of side events ever seen in Asia - guaranteed to make the poker fest even more exciting and appealing to players at all levels. Organizers and tournament director Matt Savage promise a lengthy and varied side event schedule that will appeal to all tastes, details of which will be confirmed in the near future. High-limit games and sit-n-go tables will run throughout the duration of the festival.
The last Asian Poker Tour event was held in the Philippines in January 2009 and was won by Manila rounder Neil Arce, who scooped US$185,000 for first prize after overcoming a field of 262 players from over 40 countries. The runner-up was the Republic of Korea's Steve Yea, who repeated his second place in the Asian Poker Tour Macau 2008.
Like 2008, online qualifiers are also expected to flock to the StarWorld as the Asian Poker Tour continues to gain support from leading online poker networks hosting satellites to the Main Event. The Asian Poker Tour is supported by the iPoker Network, Titan Poker, DafaPoker, PKR, PartyPoker, , 32 Red Poker, Betfriends, Ongame Network, Red Kings, 888.com, and Bwin. Full details can be found at www.asianpt.com/
Asian Poker Tour
26F Yuchengco Tower, RCBC Plaza
6819 Ayala Avenue
Makati City 1200
Philippines
The Asian Poker Tour (APT) is Asia's biggest and original poker tour. The Tour was acquired by AsianLogic (AIM:ALOG) in early 2008 and has held two successful events: one in the Philippines and the other in Macau. The Asian Poker Tour plans to hold at least four major events in 2009 where each tournament is set to attract live players as well as Internet players who will qualify via online satellites. Asian Poker Tour main events continue to be highly anticipated by poker players and enthusiasts in Asia and all over the world.