TALLINN, Estonia -- British poker player Thomas Partridge beat his countryman James Keys heads-up today to win the first ever PokerStars Baltic Festival for a first prize of nearly 1.2 million Estonian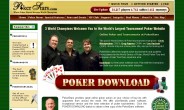 PokerStars.com Crowns - approximately €76,750. The two players are friends who traveled to Tallinn together.
The €1,100 main event was the biggest poker tournament ever held in the Baltic States and attracted 307 players from 24 countries around the world, creating a total prize pool of more than 4.5 million Estonian Crowns - approximately €290,000. Partridge also wins a trip to the Bahamas for the PokerStars Caribbean Adventure in January as part of a "last longest" promotion run by PokerStars - a prize worth $15,000.
Partridge, 24, from Teign Valley, Devon, said: "I haven't played many live tournaments, apart from in Las Vegas, and that didn't go very well. But our friend qualified and encouraged us to come along as well. The heads-up at the end went pretty quickly. I had a good run of cards and got the momentum going. I'm very pleased with the way it went. Now I'm going to try to improve my game before going to the Bahamas."
The PokerStars Baltic Festival took place in the luxurious Swissôtel in Tallinn from October 28-31, 2009. A total of 307 players from 24 countries competed, including 115 players who won their trip to Tallinn on PokerStars.com.
Among the 32 players who cashed at the event, held in conjunction with Olympic Casino, was Team PokerStars PRO Peter Eastgate, making his last appearance as world champion. Eastgate finished 23rd. Also in the money was the PokerStars-sponsored Lithuanian TV presenter Andrius Tapinas who came 15th and PokerStars qualifier Natasha Ellis who finished 17th.
Team PokerStars SportStars Mats Sundin, the National Hockey League legend, and Sami Selio, the Formula 1 Powerboat champion, also took park alongside Team PokerStars PROs Katja Thater, JC Alvarado, Johnny Lodden and William Thorson. PokerStars also sponsored Norwegian actor Aksel Rennie, Lithuanian canoeist Alvydas Duonela, Danish tennis champion Kenneth Carlsen, the Finnish ski-jump coach Tommi Nikunen and Estonian TV presenter Mart Mardisalu.
The €10,600 High Roller event was won by the Finnish high stakes player Ville Wahlbeck for €52,000. American PokerStars Passport winner Shaun Deeb came second for €28,000.
PokerStars Baltics country manager Tomas Larsson said: "This is our first Baltic Festival tournament and it's been a massive success. Players were drawn here by the promise of a beautiful city and world-class poker action - and they have not been disappointed. There have been big attendances at all the events this week, including the High Roller tournament which attracted some of the biggest name in the business. I am sure we will now build on the success of this festival to host many similar tournaments events in the future."
Plaza Roble Corporate Center
San Juan
Costa Rica
PokerStars.com is a fun, safe place to play poker with people from around the world for real or play money. The site offer the most popular poker games such as Texas Hold'em, Omaha and Stud. Real money limits range from $0.01/0.02 to $100/$200. PokerStars is an official member of the World Poker Tour, and the title sponsor of the European Poker Tour (EPT) and the PokerStars Caribbean Adventure. In the fall, PokerStars hosts the world's largest online tournament, the World Championship of Online Poker (WCOOP).