James Bord, from Stanmore, U.K., won the World Series of Poker Europe Main Event title on Tuesday night at the Empire Casino in London.
A 29-year-old professional poker player, Bord was cheered to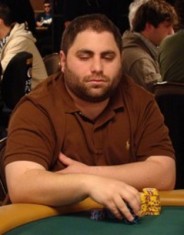 James Bord wins WSOP Europe Main Event
victory by a boisterous crowd. Prior to playing for a living, Bord worked for international banking giant Citigroup. He decided to leave his conventional job to focus instead on playing poker for a living.
Until this victory, Bord had been far better known among his peers as a cash-game player. When in Las Vegas, he routinely plays $300-600 and $400-800 stakes in the biggest poker rooms in the city.
"I never thought I would win a bracelet," said Bord. "Being so close, you just never know when it's going to come again. And it's even more special to win it in my hometown. It's just something very special."
Bord was behind in chips during most of the final day until he was heads-up against Italian-born Monte Carlo resident Fabrizio Baldassari. Bord won a huge pot late to take a slight chip advantage and closed out his dramatic victory a short time later when his pocket tens defeated Baldassari's pocket fives.
Bord collected £830,401 for first place, equal to about $1,316,550. He was also presented with his first WSOP gold bracelet.
Bord is the first British WSOP Europe Main Event champion. He is the third British player to win a gold bracelet in London. J.P. Kelly was the first to accomplish the feat, in 2009 and Scott Shelley won Event #3 this year. He was the sixth British player to win a WSOP gold bracelet in 2010. This is the most wins ever by any non-U.S. contingent in a single year.
Eight of the nine final table players were poker pros. The lone exception was Dan Fleyshman, who works full-time as the CEO of
Victory Poker
.
The runner up was Fabrizio Baldassari. He is an Italian-born poker pro who now resides in Monte Carlo, Monaco. Baldassari plays in the highest-stakes cash games online and is mostly known in the poker world for his online play. For Baldassari, the critical hand of the tournament took place when play was at three-handed. Baldassari was outchipped by about 3 to 1 and was all-in with A-4 versus A-K, held by Ronald Lee. Baldasaari was completely dominated. But he caught a miracle four on the flop and doubled up. A short time later, Baldassari seized the chip lead. But he was ultimately defeated by British poker pro James Bord in the heads-up duel. Baldassari earned £513,049 in prize money.
Lee, a 24-year-old professional poker player from Jericho, N.Y., was third. Lee was a college student before turning pro. Lee's first big cash took place at the 2008 EPT Grand Final in Monte Carlo. He also cashed in the 2009 WSOP Main Event as well as finished in-the-money in the Six-Handed No-Limit Hold'em championship, earlier this year in Las Vegas. Lee arrived at the final table ranked second in chips and took the lead early. He then suffered several brutal setbacks, including a few losses when he held a dominant hand. Lee's final hand was pocket 5s, which lost to James Bord's A-K after a king flopped. Lee collected £365,829 in prize money.
The fourth-place finisher was Roland de Wolfe, from London, U.K. He is a 31-year-old professional poker player. He was the only former WSOP gold bracelet winner among the nine finalists. He was victorious in the $5,000 buy-in Pot-Limit Omaha championship in Las Vegas, in 2009. De Wolfe started out at a poker writer and enjoyed his first big in-the-money finish back in 2005. Since then, he has cashed in numerous big tournaments around the world and has earned $2.5 million during his poker career. In fact, de Wolfe is one of a very select group who has won in tournament poker what is often referred to as poker's Triple Crown – with wins at the WSOP, WPT and EPT. He went bust with K-Q, which lost against A-8 when the flop brought both an ace and an eight, de Wolfe received £278,945.
The fifth-place finisher was Nicholas Levi, from London, U.K. He is a 27-year-old poker pro. Levi has numerous cashes over the past five years in just about every major tour stop in Europe. He also cashed in the 2007 WSOP Europe Main Event. Levi final tabled the $5,000 buy-in No-Limit Hold'em Shootout earlier this year in Las Vegas, where he finished fifth. He was eliminated when he lost a race holding pocket 9s against K-Q. A king came on the turn. Levi collected £208,119 in prize money.
The sixth-place finisher was Danny Steinberg, from Fairfield, Iowa. He is a 22-year-old professional poker player. Steinberg cashed twice at this year's WSOP in Las Vegas, including an in-the-money finish in the Main Event. He began the final table ranked third in chips but went out when he was low on chips and took A-J suited up against pocket 4s. Steinberg failed to make a pair and ended up receiving £156,530.
Fleyshman, a 29-year-old entrepreneur from San Diego, Calif., was seventh. He came into the final table as chip leader. This marked his first time to cash in a WSOP event. He has previously cashed numerous times in other smaller tournaments. Prior to joining the poker industry, Fleyshman was the founder of a multi-million dollar company which produced the energy drink called "Who's Your Daddy." When he had his own enterprise, at the time he was the youngest owner of a publicly-traded company at the age of 23. Fleyshman was the aggressor during the early rounds but saw his stack gradually dwindle. He went out holding J-T suited versus K-5. A king flopped, putting Fleyshman out of the tournament. He collected £118,643 in prize money.
The eighth-place finisher was Brian Powell, from Louisville, Ky. He is a 28-year-old poker player. This marked his fifth cash at the WSOP. His best previous finish was 13th place in the $10,000 buy-in mixed event two years ago. Powell also cashed in the 2009 WSOP Main Event, finishing in 66th place out of more than 6,000 players. Powell was eliminated on the same hand with Marc Inizan (ninth place). He was also holding pocket 8s, which lost to ace-king. Powell received £90,617.
Inizan, from Pluguffen, France, also held pocket eights against Lee's ace-king when he was eliminated. He is a 24-year old former student who is now a professional poker player. He is enjoying a very big year in tournament poker. He has achieved six major cashes, including a third place finish in the EPT Berlin Main Event. But this marked his first time to appear at a WSOP final table. He did take 13th place in this year's $10,000 Pot-Limit Omaha championship. Inizan collected £69,754 in prize money.
There were 232 hands played at the final table. The duration lasted 11 hours and 40 minutes. The 90-minute dinner break was not included.
There were several former WSOP gold bracelet winners who cashed in this event – including de Wolfe (4th), Hoyt Corkins (15th), Phil Ivey (19th), Greg Mueller (22nd), Barry Greenstein (23rd) and Freddy Deeb (30th).
The 16th-place finisher was Viktor Blom, from Sweden. He is alleged to be the mysterious high-stakes online cash game player known as "Isildur1," who became one of poker's biggest stories over the past year. However, Blom has yet to actually confirm his identity as "Isildur1."
For the first time, the final two days were broadcast over the Internet with streaming video and commentary. Players' hole cards were shown to the audience. The broadcast was relayed globally with a five-hour delay. The delay was mandated because of concerns that showing players hole cards could potentially provide an advantage to player(s) who had access to opponent(s) playing tendencies.
The final two playing days of the tournament were filmed for later broadcast to a potential viewing audience of up to 300 million worldwide. ESPN will show four hours of original content in the United States. These programs are expected to air in early 2011. The programs will be shown in other nations on various networks, to be announced later.
With the conclusion of this tournament, the only remaining WSOP gold bracelet event still to be played in calendar year 2010 is the WSOP Main Event, final table. The world championship will take place at the Rio in Las Vegas in November.
Tournament notes provided by WSOP Media Director Nolan Dalla for www.wsop.com.