LAS VEGAS - Actress -turned poker pro Abi Titmuss has set tongues wagging in Las Vegas this week, where she is competing as part of Team Ladbrokes at this year's World Series of Poker (WSOP). Abi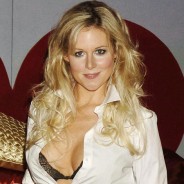 Abi Titmuss is turning heads at the WSOP. kicked off her week in the gambling capital yesterday (Wednesday) when she competed in the 'Ante Up For Africa' charity poker tournament, organised by Oscar-nominated actor Don Cheadle and poker star Annie Duke. However, Abi got a rude awakening in the first hand of the tournament, where she was seated next to Good Will Hunting star Ben Affleck – who wasted no time in winning some of her chips. In only the first hand of the tournament, the two of them were engaged in a 'Heads-up' (one on one). Despite her bravado, Affleck's 'Full House' beat Titmuss' 'Straight Draw' and the Gone Baby Gone director took over half of her chips in one fell swoop. Ever the gentleman, Affleck then offered Titmuss' a sheepish "Sorry, dear" as he scooped up her chips. Unfortunately for Abi, she was unable to recover from the early setback and was knocked out of the tournament in the first hour.
As well as Affleck and Titmuss, the 'Ante Up for Africa' tournament, which provides assistance to the survivors of the crisis' in Darfur and Sudan, saw a string of Hollywood stars turn out. Amongst those joining Ocean's Eleven star Cheadle at the poker tables were movie stars Matt Damon (who told Abi not to worry when nerves were getting the better of her), Adam Sandler and Seinfeld actor Jason Alexander. American Pie actress Shannon Elizabeth and basketball legend Charles Barkley also joined the 79-strong field to help support the cause.
Abi said: "I couldn't believe my luck when Ben Affleck sat down next to me. I love poker and was really prepared to give these Hollywood A-listers a run for their money, but before I knew it Ben had taken half my flippin' chips!" Also on Abi's table was poker pro Andy Bloch and Dan Shak, who won the 2007 'Ante Up for Africa' tournament. Abi is in Vegas representing Ladbrokespoker.com alongside six-time World Snooker Champion and fellow teammate Steve Davis as they cheer on fellow Ladbrokes players competing in the main event of the WSOP.
Now in its 39th year, the WSOP sees the world's top poker players go head to head at the Rio All-Suite Hotel & Casino in Las Vegas to become the winner of a coveted WSOP 2008 bracelet and take home the top prize of around $8 million. Ladbrokespoker.com is also offering a $1 million bonus to all their team members for first place, to spur them on in the tournament as well as automatic buy-in to the 40th WSOP in 2009 for anyone finishing in the first 100.