LAS VEGAS -- As reported by BodogBeat: He's the richest man in Canada, a billionaire businessman and the co-founder of "Cirque du Soleil," and today he is one of the final six poker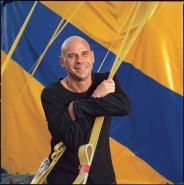 Guy Laliberte will add to his billions with his good finish at the WPT World Championships.
players left competing for the $3.97 million first prize at the WPT World Championship. In only his third tournament after picking up the game 16 months ago, Guy Laliberté has shown at the poker tables this week the same focus he's used to develop his Cirque entertainment empire, outlasting more than 630 poker players to begin play today at the TV final table with the third most poker chips ($4,690,000).
Laliberté, 47, started with cash games at the Bellagio and got to know some of the high-stakes players who frequent the poker room and learned by watching them play. He took that knowledge and entered a $2,500 super-satellite at the Bellagio earlier this month to win his seat into the WPT World Championship.
Now, after playing through a tough 639 person field, Laliberte still has an uphill climb if he hopes to take home first place against a table of accomplished poker pros, including experienced tournament player Paul Lee, who took his Day 4 chip lead and parlayed it into a dominating lead after Day 5. Lee now holds more than a third of the chips in play at $11.83 million.
Sitting approximately 5 million chips behind him in second place is Carlos "The Matador" Mortensen ($6.5 million), who is looking to become the first player to ever win both the WSOP Main Event (in 2001) and the WPT World Championship.
Here are the full chip counts with the rest of the final table:
1. Paul Lee - $11,828,000
2. Carlos Mortensen - $6,501,000
3. Guy Laliberte - $4,690,000
4. Kirk Morrison - $4,194,000
5. Mike Wattel - $2,887,000
6. Tim Phan - $2,162,000
The final table will begin at 5pm PST today and will go until the winner is awarded the $3.97 million first-place prize.
World Poker Tour (WPT)
5700 Wilshire Boulevard
Suite 350
Los Angeles, CA 90036
Phone: 323-330-9900
Fax: 323-330-9901
Website: www.worldpokertour.com

The World Poker Tour (WPT) can be seen in more than 116 countries and territories throughout the world. WPT consists of 17 high stakes poker tournaments filmed at glamorous locations throughout the world, including Bellagio in Las Vegas, Foxwoods Resort Casino in Mashantucket, CT, Aviation Club de France in Paris and the Borgata in Atlantic City. Each year the Tour culminates in the WPT World Championship in Las Vegas at Bellagio in April, drawing the leading pros and accomplished amateurs from around the world for an $8-12 million prize pool.