LOS ANGELES, California -- Phil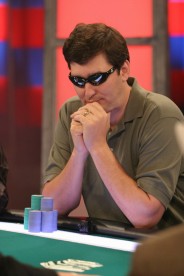 Phil Hellmuth Hellmuth's Hand of the Week, the syndicated poker column by all-time World Series of Poker Champion Phil Hellmuth, is now available from Card Shark Media LLC.
Phil Hellmuth, known as The Poker Brat, is the winner of a record eleven World Series of Poker champion bracelets. He has teamed with Card Shark Media LLC to write the most informative, entertaining and engaging weekly newspaper poker column ever. Unlike other syndicated poker advice features, Hellmuth's column offers the perfect blend of poker stories, playing tips, and enhanced graphics.
The feature is targeted to the huge poker market of 60 to 70 million adults in the USA who play poker or watch poker on television, plus an equally large international market.
Hellmuth's poker advice column has been syndicated by United Media since 2005. It re-launches today from Card Shark Media LLC and is immediately available to newspapers and newspaper websites throughout the world.
Mr. Hellmuth said, "It's a pleasure to re-launch my syndicated poker column with Card Shark Media. Steve Miller, Card Shark Media's CEO, is a dynamic leader in the world of media syndication." Added Hellmuth, "Steve and I are completely energized about the range of poker products that we'll be delivering to the global newspaper industry in the coming months."
Steve Miller, Card Shark Media's CEO stated, "It's a pleasure to be working with Phil Hellmuth. His success at the poker table cannot be denied. Phil's truly a larger than life character whose poker exploits and celebrity experiences are immensely popular with casual poker fans and serious poker players alike."
Phil Hellmuth is the top dog in big event tournament poker. In addition to his eleven WSOP championship wins, he was the consensus Player of the Year in 1996. In 1989, he became the youngest winner of the WSOP main event and retained that distinction until last year. Phil has won more than 50 tournaments including the National Heads-Up Poker Tournament.
Hellmuth is a talented writer having penned several books including the New York Times bestseller, Play Poker Like the Pros. Phil is a constant presence on televised poker broadcasts having appeared on every major poker broadcast over the last twenty years.
Phil Hellmuth, age 44, was raised in Wisconsin and educated at the University of Wisconsin in Madison. He currently resides in Palo Alto, California with his wife Kathy and two sons, Phillip III and Nicholas.
Card Shark Media LLC is the exclusive syndicate for global distribution of Phil Hellmuth's poker columns to newspapers and their affiliated websites.