LAS VEGAS, NV - On Tuesday, April 14 at 4 p.m., the Hard Rock Hotel & Casino held a ribbon cutting ceremony to mark the opening of the Joint, the brand new, state-of-the-art concert venue (Pictured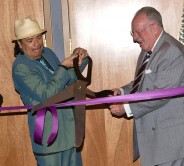 to left): Carlos Santana and Las Vegas Mayor Oscar Goodman). The event featured:
Carlos Santana, recording artist and resident headliner
Randy Kwasniewski, President of Morgans Hotel Group, Las Vegas and President and COO of Hard Rock Hotel & Casino
John Meglen, President and co-CEO of AEG Live/Concerts West
Patrick Berge, President of Sceno Plus
Oscar Goodman, Mayor of Las Vegas
The Joint Grand Opening celebration continues this weekend with concerts from The Killers, Avenged Sevenfold and Paul McCartney. Offering an unparalleled commitment to rock and roll, The Joint features a cutting-edge sound and lighting system, seven luxury suites, and the most sophisticated, intimate and authentic experience in Las Vegas for performers and fans alike.
Hard Rock Hotel & Casino
4455 Paradise Road
Las Vegas, NV 89109
Phone: (702) 693-5000
Toll Free Phone: (800) HRD ROCK
Fax: (702) 693-5010
Email:
info@hrhvegas.com
Website: www.hardrockhotel.com
The Hard Rock Hotel & Casino is a popular destination entertainment resort that was built in 1995. It has over 600 rooms and features over 650 slots and 90 table games. In addition to the hotel and casino, the property has a beach club with a swimming pool that was selected by the Travel Channel as one of the top 10 pools in the world, the Body English nightclub, "The Joint" concert hall, five restaurants, including the world famous Nobu, and an 8,000-square-foot spa and fitness center.