LAS VEGAS, NV - Opening week at The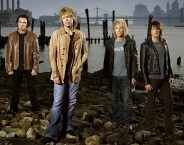 Bon Jovi will be rocking The New Joint on April 24th New Joint just got even BIGGER as the #1 tour in the world returns to Vegas. Grammy Award Winning rockers Bon Jovi are taking the excitement of opening The New Joint at Hard Rock Hotel & Casino to the next level. Bon Jovi will play The New Joint at Hard Rock Hotel & Casino on Friday, April 24. Tickets go on-sale to the general public on Saturday, February 28 at noon.
"We are thrilled to host such an incredible act in the all new Joint," said Randy Kwasniewski, President and COO of Morgans Hotel Group Las Vegas and Hard Rock Hotel & Casino. "The Hard Rock is known for generating legendary moments by presenting mega-sized acts in an intimate environment and this is certainly one of them."
"We look forward to Bon Jovi joining us in celebrating the opening of The New Joint," said John Meglen, President & Co-CEO, Concerts West/AEG Live. "The New Joint was designed with the goal of attracting bigger name acts into a larger venue with state-of-the-art production capabilities-allowing us to provide the ultimate experience for both fan and artist. Bon Jovi and their fans are a prime example of the need for this great new venue."
Bon Jovi has set the bar for more than two decades as one of the most successful rock bands in the world. Globally, they have sold more than 120 million albums and performed more than 2,500 concerts in over 50 countries for more than 32 million fans. Their latest album, the Nashville-inspired LOST HIGHWAY was released June 19, 2007, debuted at #1 around the world and includes the hits songs "Lost Highway" and "(You Want To) Make a Memory." The band's 2005 album, HAVE A NICE DAY, featured the Grammy-Award winning song, "Who Says You Can't Go Home," and fueled one of the top-selling tours of 2005. For more info on Bon Jovi visit www.bonjovi.com.
Jon Bon Jovi partnered with Hard Rock International in January 2008 on a limited edition T-Shirt benefitting The Philadelphia Soul Charitable Foundation, a non-profit organization dedicated to helping the lives of those in need "one Soul at a time." The Signature Series T-Shirt is available for purchase at www.hardrock.com/promo/sig26.
Tickets go on-sale Saturday, February 28 at noon for Bon Jovi. Tickets are available at the Hard Rock Hotel Box Office, all Ticketmaster locations, online at www.Ticketmaster.com or charge-by-phone at 800-745-3000.
Hard Rock Hotel & Casino
4455 Paradise Road
Las Vegas, NV 89109
Phone: (702) 693-5000
Toll Free Phone: (800) HRD ROCK
Fax: (702) 693-5010
Email:
info@hrhvegas.com
Website: www.hardrockhotel.com
The Hard Rock Hotel & Casino is a popular destination entertainment resort that was built in 1995. It has over 600 rooms and features over 650 slots and 90 table games. In addition to the hotel and casino, the property has a beach club with a swimming pool that was selected by the Travel Channel as one of the top 10 pools in the world, the Body English nightclub, "The Joint" concert hall, five restaurants, including the world famous Nobu, and an 8,000-square-foot spa and fitness center.