NEW YORK, New York -- Hard Rock International today announced a strategic alliance with Caribbean CAGE LLC, a majority owned RLJ company, and its majority owner, entrepreneur Robert L. Johnson, and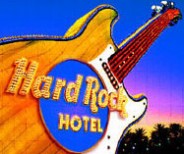 indicated that Caribbean CAGE LLC will become an investor in the Hard Rock Casino at Aqueduct Racetrack project being proposed by New York-based SL Green Realty Corp. and Hard Rock.
The proposed SL Green/Hard Rock project, under review by the State of New York, is expected to generate more than $525 million in revenue to New York State annually. It includes a Hard Rock-branded casino featuring more than 4,500 Video Lottery Terminals (VLT), a Hard Rock Live performance center, a Hard Rock Bar, iconic music memorabilia from Hard Rock International's unmatched collection, a VIP players club, retail shops, a 425-seat fresh harvest restaurant and a marketplace-style food court.
"We are thrilled to be working with Caribbean CAGE LLC and Bob Johnson," said Jim Allen, Chairman, Hard Rock International. "Bob Johnson is a true global pioneer in media, music and entertainment, and we are ecstatic that Caribbean CAGE LLC will be an equity investor in the Hard Rock Casino Aqueduct development."
Considered one of the country's most successful business leaders, Johnson is currently Chairman and Founder of RLJ Companies and majority owner of the Charlotte Bobcats of the NBA. Previously, Johnson was the Founder, Chairman and CEO of Black Entertainment Television (BET).
"This is a great opportunity to partner with Hard Rock - one of the world's most recognized brands. My background in entertainment, marketing and media makes this a perfect match," said Bob Johnson. "After working with Hard Rock for almost a year, I am very excited that Caribbean CAGE will be joining Hard Rock International and SL Green in the Aqueduct development. This is the first of what I hope to be many future projects with Hard Rock International."
Robert B. Washington, Co-Founder, Chairman and CEO of Caribbean CAGE LLC added, "We, at CAGE, are delighted to join this great team in creating a world-class project - the Hard Rock Casino at Aqueduct Racetrack."
SL Green CEO Marc Holliday added, "Working with our partners, we are planning a state-of-the-art gaming facility with additional attractions that will make it one of New York City's most popular destinations when fully completed. First of all - Hard Rock is the world's premier name in gaming and entertainment-oriented hospitality, and its brand strength and expertise will help maximize ongoing revenue to the State. In terms of getting this well-capitalized project done in the timeliest way, SL Green is best able to do so. We can draw upon years of experience in development and redevelopment in New York City, and we can break ground immediately because our plans have been formulated to conform to existing regulatory approvals. In addition, we have the expressed support of the various unions. Overall, there is a real excitement in the community and the city at large for our plan and there is no question that it is far superior to other bids that the State is considering. We look forward to making this happen."
As part of the SL Green/Hard Rock proposal, more than 2,000 Video Lottery Terminals are expected to be open by April 2010 and an additional 2,500 terminals would be open by 2011. Additional plans include a Hard Rock Hotel, shops, dining and an entertainment center.
In addition to Bob Johnson and Caribbean CAGE LLC, Hard Rock and SL Green's bid also includes Jeff Gural, CEO of New York-based Newmark Knight Frank and American Racing Entertainment and owner of Tioga Downs and Vernon Downs in Upstate New York and Daniel R. Tishman, Chairman and CEO of New York-based Tishman Construction.
Hard Rock recently opened a world-class Hotel and Casino facility in Macau, as part of the City of Dreams project, and last month announced plans for a Hard Rock Hotel and Casino in Hungary. Hard Rock's other hotel and casino properties include Hard Rock Hotel and Casino Las Vegas; Seminole Hard Rock Hotel and Casino Hollywood (Florida); Seminole Hard Rock Hotel and Casino Tampa (Florida); and Hard Rock Hotel and Casino Biloxi (Mississippi); as well as branded hotels in Orlando (Florida); Chicago (Illinois); San Diego (California); Pattaya and Bali. Additional hotel and casino projects have been announced in Penang/Malaysia, scheduled to open in 2009; Singapore scheduled to open in 2010; Atlanta and Panama, scheduled to open in 2011; Dubai and Abu Dhabi, scheduled to open in 2012.

Hard Rock Hotel & Casino
4455 Paradise Road
Las Vegas, NV 89109
Phone: (702) 693-5000
Toll Free Phone: (800) HRD ROCK
Fax: (702) 693-5010
Email:
info@hrhvegas.com
Website: www.hardrockhotel.com
The Hard Rock Hotel & Casino is a popular destination entertainment resort that was built in 1995. It has over 600 rooms and features over 650 slots and 90 table games. In addition to the hotel and casino, the property has a beach club with a swimming pool that was selected by the Travel Channel as one of the top 10 pools in the world, the Body English nightclub, "The Joint" concert hall, five restaurants, including the world famous Nobu, and an 8,000-square-foot spa and fitness center.