POCASSET, Oklahoma -- Chickasaw Nation officials today conducted a ribbon-cutting ceremony at SaltCreek Casino, marking the opening of the Nation's first economic endeavor in Grady County.
"Opening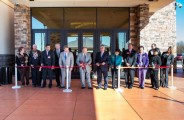 Chickasaw officials cut the ribbon at the opening of the SaltCreek Casino.
of SaltCreek Casino is a significant first step in our vision for expanding tourism and economic development in Grady County. SaltCreek employs nearly 200 local residents, and we expect it to attract more people from outside the area who will patronize local businesses and spur economic development and job growth for years to come," said Chickasaw Nation Gov. Bill Anoatubby.
Located nine miles north of Chickasha, Okla., on U.S Highway 81, SaltCreek Casino is 36,000 square feet and houses more than 550 electronic games and six table games. It sits on 190 acres of previously undeveloped land, which took a little more than one year to properly prepare for construction of the casino, said Bill Lance, CEO of the Chickasaw Nation Division of Commerce.
"From the beginning of construction until today, we placed high importance on creating a first-class facility," said Lance. "We took great care in building the necessary infrastructure as well as preserving the surrounding land."
Lance said some land improvements included the installation of a 155,000-gallon water tank, dedicated turn lanes from Highway 81 northbound and southbound lanes as well as the construction of an access road and two major bridges connecting the casino and highway.
In addition to the gaming amenities, SaltCreek Casino features: Fork Café, a 44-seat restaurant with a home-style menu; a full-service Brook Bar; and Reflections, a high-end retail store featuring such select items as Oakley sunglasses and apparel, designer purses and Bedré Fine Chocolate.
Grand opening festivities will take place New Year's Eve, Monday, Dec. 31.
SaltCreek Casino
1600 Highway 81
Pocasset, , OK 73079
Phone: (405) 459-4000
Website: www.saltcreekcasino.com

500 popular electronic and table games like Blackjack and Texas Hold 'em make up the all-new Salt Creek Casino. Dining is offered at the Fork Café.