Cosmopolitan Casino Set to Open in December in Las Vegas
Nevada's Gaming Commission on Thursday approved a gambling license for the $ 3.9 billion Cosmopolitan of Las Vegas, clearing the way for the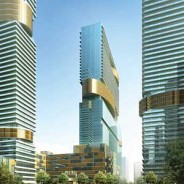 The Cosmopolitan Casino plans a December opening.
hotel-casino owned by Deutsche Bank AG to open in December, the Las Vegas Review-Journal reports. Plans call for the resort to open Dec. 15 with a 100,000-square-foot casino, including 1,500 slot machines and 83 table games. About 2,000 of the 2,995 hotel rooms will be ready immediately, with the remainder opening soon after.
The Cosmopolitan is expected to employ 5,000 people.
Siena Casino closes in Reno


22 October 2010
RENO, Nevada -- Yesterday around noon The Siena Hotel, Spa and Casino locked its doors and closed, much to the surprise of its employees, according to the Reno Gazette Journal. The casino may have one remaining possibility based on documents filed in the bankruptcy court, the report said. The property must be bailed out by investors by Oct. 29, 2010 or liquidated in ongoing bankruptcy proceedings.
Fort Erie Gets Benefit from Slot Revenue
Fort Erie received its quarter share of slot machine revenue from the Fort Erie Race Track for the past 3 month period, according to Buffalo Business First. Ontario Lottery and Gaming Commission issued a check for $412,000 for the three month period, the report said. Fort Erie has received $31. 8 million from the OLGC since the slots were established.
New Casino Planned for London
MALAYSIA AND LONDON, England -- Genting Malaysia has reportedly entered a "joint venture agreement" with Apollo Resorts & Leisure Casinos, according to a Reuters report. The agreement will see the establishment of a casino for London 2012 Olympic Games, Reuters said. Each party will put close to 3 million pounds into the venture and will hold a fifty percent share, the report added.
Gold Rush Casino Closes in Cripple Creek
CRIPPLE CREEK, Colorado -- Gold Rush Casino has closed down, but a smaller casino is planned, according to the McClatchy-Tribune. The casino closed on Monday at 2am, after a lease dispute was not resolved with the owner of the building, the report said. Gold Rush Casino's general manager stated a smaller casino is being planned in the former Imperial Casino Hotel, the McClatchy-Tribune reported. A license will need to be approved by the Colorado Division of Gaming before the casino can open.